We Should Anticipate a Rettracement in Boston Beer (SAM)
The makers of Samuel Adams, Boston Beer $SAM, has been strong since July, when price found support around $130 per share.

SAM Daily Chart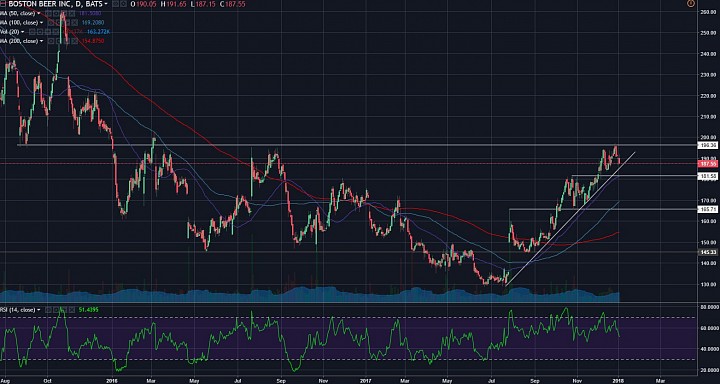 (click to enlarge)

Anticipating Correction:
- SAM has rallied to 196.40, which is a key support/resistance pivot.
- Also, there is a bearish divergence between price and the RSI.
- Finally, the prevailing trend entering 2017 was bearish, so the rally since July does not necessarily establish a bullish trend. It could be just a correction.
- Price can retrace to 165 in either of these scenarios.
- In the bullish scenario however, I think the deepest retracement should not go below 150.
- So patient traders who believe SAM is rounding out a bottom could consider scaling in buys between 150 and 160.
- A break below 145 however would open up the bearish continuation scenario.
Bullish Scenario:
- If price does NOT break below 180, then, SAM might continue higher to test 200.
- Again, if price does not break above 200, and a bearish correction follows, we should monitor the 150-160 area in 2018.
- From 150-160, there is upside to minimally 180 and then 200, with prospect of pushing higher. The next critical resistance above 200 will be 260.