Gold Likely in Correction Mode
Gold (XAU/USD) has been bullish since December 2015. As we can see in the daily chart, the really has brought it from around 1050 to almost 1280. 

(XAU/USD) Daily Chart 3/9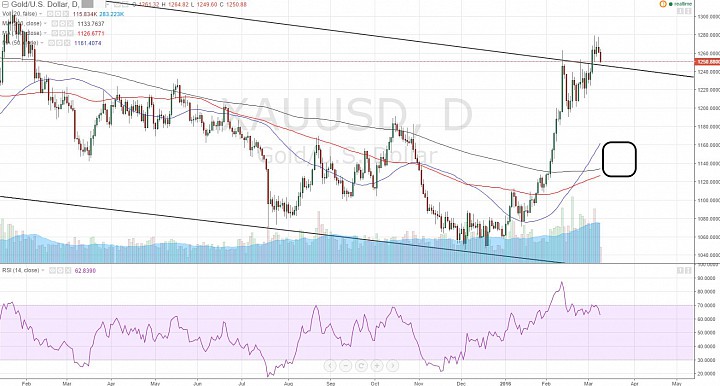 (click to enlarge)

We can also see on the daily chart that price cracked a falling trendline. However, we can also see a bearish divergence between price and the daily RSI. This suggests a possible bearish correction ahead. Given that the prevailing trend before the December-to-now swing was bearish, I would give this bearish divergence some consideration. 

Support Levels: 
There are a couple of spots where we might anticipate the bearish correction to find support.
1) 1190 up to the 1200 psychological level. This area involve a support/resistance pivot. 
2) 1140. The area around 1140 is the cluster of 200- 100-, and 50-day simple moving average. It would also be around the 61.8% fibonacci retracement area. 

If the RSI approaches 40 and stalls as well, we might consider a buy.

Trading Idea:
For the short-term however, I would respect the bearish divergence and short around 1260-1265 with 2 targets: 1200 and 1150. With a stop just above 1280 ie. 1285, there is a decent reward to risk profile for this trade, if you simply believe that there is a 50% chance the market made a short-term top near 1280 and is ready for a pullback.