USD/JPY - Anticipating Critical Support Around 111.70
We recently looked at USD/JPY and suggested that it could be turning bullish after a period of bearish correction and sideways consolidation.
USD/JPY Daily Chart 7/13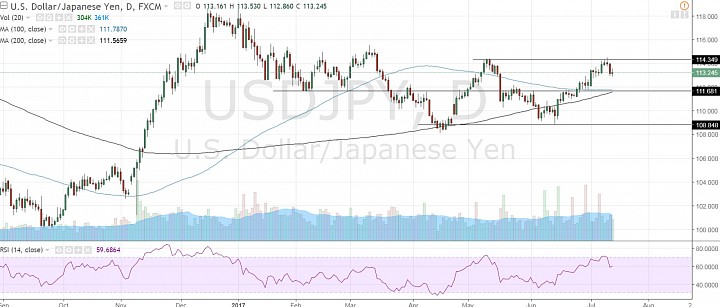 (click to enlarge)

Key Resistance and Support:
- The claim that USD/JPY has turned bullish might be premature. We did see a higher low (June vs. April), but USD/JPY retreated from the May high.
- A break above that 114.35 resistance then establishes a shift to the bullish mode.
- Now, as price retreats from this resistance, we should focus on the "central pivot area" around 111.70.
- Not only is this the middle of the consolidation range, it is also a support/resistance pivot, and where both the 100- and 200-day simple moving averages (SMAs) reside.
- If price holds above 112, it would be a good sign that USD/JPY is going to push above 114.35. But if price falls below 111.70, we might be looking at an extended period of consolidaiton/bearish correction.