Wendy's (WEN) plunges despite beating estimates
Shares of Wendy's fell more than 7 percent in midday trading Wednesday despite the fast food chain beating expectations on both the top and bottom lines.
Earlier, the stock traded higher.
The company reported adjusted first-quarter earnings per share of 11 cents on revenue of $378.8 million. Analysts polled by Reuters expected Wendy's to post earnings of 6 cents a share on revenue of $352 million.
Wendy's also raised its full-year earnings guidance to a range of 38 cents to 40 cents per share, from a 35 cents to 37 cents range. Analysts on average expected full-year profit of 36 cents, according to Thomson Reuters.
(Full Article on CNBC.com)
Also, the malware that affected 5% of its restaurants at point of sale has been resolved. It is a bit surprising to me that WEN shares took a dip after the positive earnings report and relatively positive news. 

WEN 4H Chart 5/12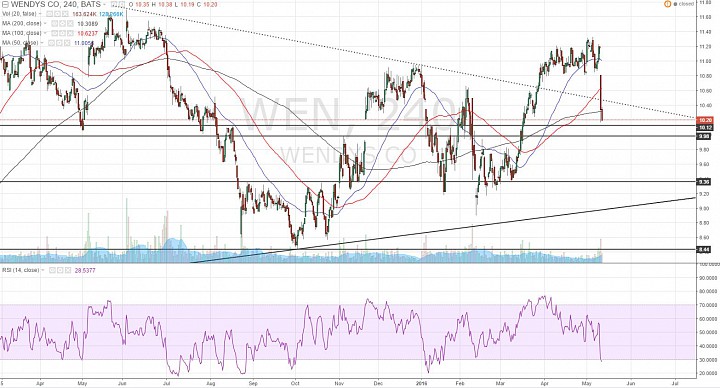 (click to enlarge)

I was bullish on Wendy's earlier in the year and still is for the medium-term up to a year-long horizon. I missed the bullish break in March-April. But in hindsight, after yesterday's plunge it was good to wait for a pullback. But then, this pullback is sharp and not something I want to jump on right away. 

There could be some near-term momentum that might extend into next week. Ideally, I would like to buy around 9.20-9.50, a support/resistance pivot area. 

However, if over the span of the next week price stalls around 10.00 and let's say we see a bullish divergence between price and the RSI, I might try to buy with a stop below 9.80 and a target within this year of 1) 11.20 2) 11.50, 3) 12