Bitcoin (BTC/USD) Showing Signs of an Impending Correction
Bitcoin's $BTCUSD bullish trend since February has been cooling off and could be shifting into a bearish correction as price is getting held under $8000.
BTC/USD 4H Chart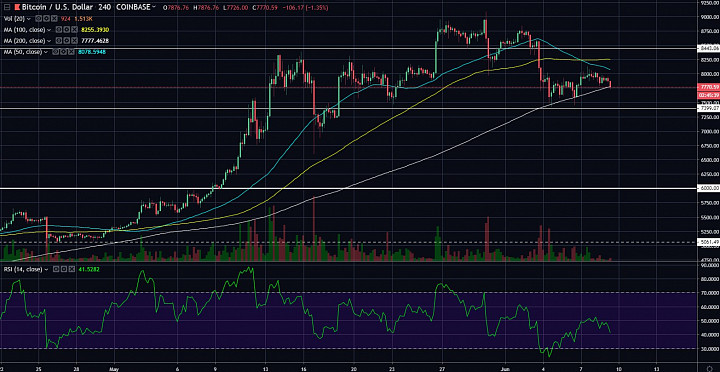 (click to enlarge)
Bearish Signs:
If you focus on the 4H chart, you would see that price has been trading above the 200-period simple moving average since February when price popped up from around $3350 to $3700 in one day and never looked back.
On the chart above, we can see that price is cracking that 200-period (4H) SMA. A break below $7500 would be a clear indication of a cross under.
Furthermore, we finally saw 2 straight lower highs. During the run-up, we have only seen the market being able to make 1 lower high (as in an abc correction) before continuing the bullish trend.
The most recent resistance around $8000 marked the second lower high (first one was around $8750).
Furthermore, the RSI fell below 30, and turned back down after tagging 50, another sign that bearish momentum is building up.
I think a break below $7400-$7500 would be the next bearish signal which could send price towards the critical level of $6000.
My Tentative Trade Plan:
As I noted in previous articles on Bitcoin, I have been rotating out of my exposure in Bitcoin. My crypto account is now around 75% cash after my final exits around $7400.
My tentative plan is to re-enter slowly around $6000 with dry powder ready in case price falls back below $6000.
I use to have entry plans for $3000, $2000 and even $1500. But at the moment, my lowest entry point is around $4200, with most of my entries around $5200 and $6000.
From Coinpowr