British Pound (GBP) Slumps Despite the BoE's Stronger Forecasts
The Bank of England (BoE) maintained its monetary policy but did raise its own forecasts on the economy, inflation and unemployment. Normally, improved expectations would move the bank's rhetoric towards a rate hike. However, the BoE said it wants to be cautious through the whole Brexit process. 

It was probably this Brexit-focused uncertainty that pressured the British Pound Today. The GBP/USD for example stopped its rally and looks like it could be in a bearish reversal.

GBP/USD 4H Chart 2/3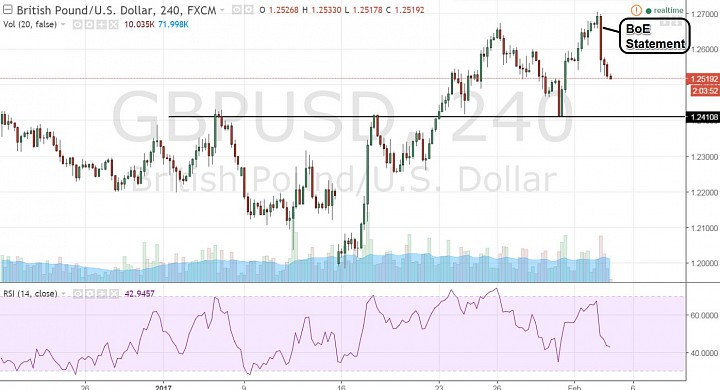 (click to enlarge)

Bulls Stop at 1.27:
- As we can see on the 4H chart, the GBP/USD rallied from around 1.20 about 2 weeks ago to 1.27 during the 2/2 session right before the BoE announcement.
- After the policy announcement, price fell sharply and closed the 2/2 session just above 1.25. 

1.24-1.2420 is Critical Support:
- The 1.24-1.2420 area involves a psychological level and is a support/resistance pivot area. 
- If price falls below 1.24, we should anticipate a dip towards 1.20.
- A hold above 1.2420 on the other hand would be a strong indication that GBP/USD is still bullish.
- In this bullish scenario, the 1.2660 pivot, the 1.27 high and then the 1.2760-1.2770 support/resistance pivot area would be targets. 

EUR/GBP 4H Chart 2/3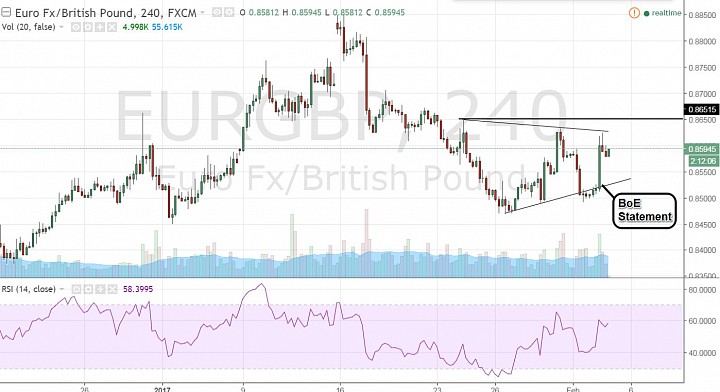 (click to enlarge)
Looking for Breakout from Consolidation:
- The EUR/GBP has been holding above 0.85 during the 2/1 session and shot up above 0.86 after the BoE statement.
- The 4H chart shows a pair that is essentially in consolidation.
- Let's see if the current rally can extend into the Friday 2/3 session and push above 0.8650.
- A break above 0.8650 would be a sign that the EUR/GBP is back on a bullish trend.
- 0.87 would be the first challenge, but above that, we should anticipate upside towards the 0.8850 high.