Uniqure (QURE) Pulls Back; Anticipating Support Soon Within a Bullish Trend
Gene therapy name Uniqure $QURE has been in a bullish trend in 2019, with price pushing into fresh new highs above $80.
Since June, price has been pulling back, but I think we should anticipate support soon.
QURE Daily Chart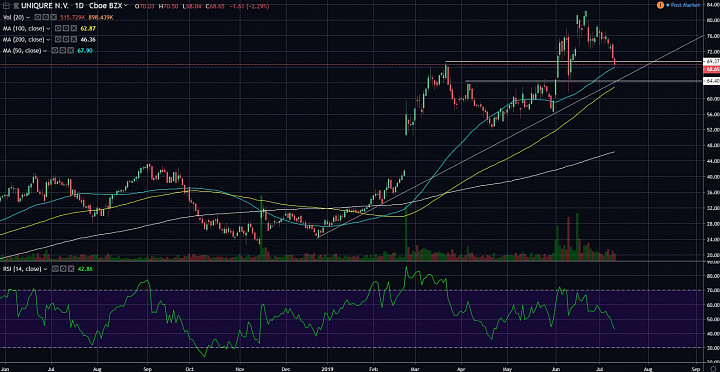 (click to enlarge)
Pullback to Support:
- As we can see on the daily chart, QURE has been bullish all year after a period of consolidation in the second half of 2018.
- In the past month, price has been pulling back.
- As it breaks QURE breaks below $70, I think it is now approaching a key support around $64-$65.
- This area involves a previous support/resistance area, as well as a rising trendline.
- Furthermore, the RSI will be around 40. If it holds above 40, it would reflect continuation of the bullish momentum.


I entered a small long position entered around $70, and am looking to add to the position around $65.