Netflix (NFLX) Maintains Bearish Momentum
Netflix $NFLX has been consolidating since it tagged $423 earlier in June. So, far price has retreated to about $311 in August before rebounding. The fact that it remained above the 200-day simple moving average (SMA) suggested a possible bullish continuation after the rebound from $311. However, after last week, the daily chart now points to another bearish swing.
NFLX Daily Chart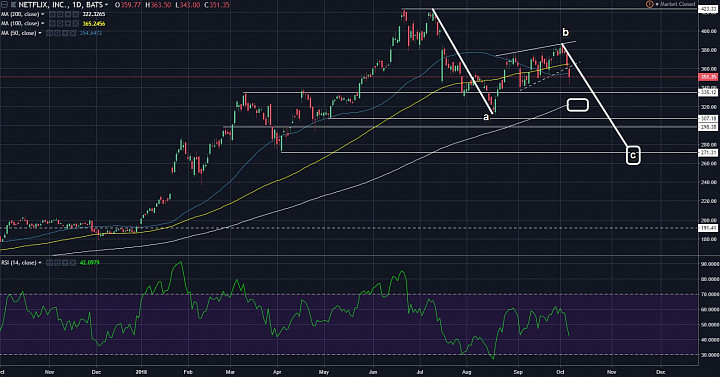 (click to enlarge)
Bears in Charge:
- Price holding above the 200-day SMA was indeed an indicator that the overall market was still bullish.
- However, in the short-term we are getting some bearish signals.
- First of all price failed to climb back above $400, and instead respected the double top.
- Then it fell and broke below a wedge support.
- Meanwhile, the RSI has held under 60, which suggests maintenance of the recent bearish momentum (from July-August).
Bearish Correction Scenarios:
- One aggressive correction scenario would be an ABC correction where wave C is similar in length to wave A.
- This scenario has a target projection towards the $270-$275 area, which is a previous support pivot.
- However, if the market is in contraction now, we will likely see support around the 200-day simple moving average (SMA), which would be above that August-low, which is the current consolidation low.

I think Netflix is indeed in a neutral-bearish mode in the short to medium-term. But this is within the context of a consolidation in the middle of a long-term bullish trend.