EUR/GBP - Anticipating Support After Some More Downside to 0.84
The $EURGBP pair is in a bearish trend so far in 2019. In late February, this trend extended below a key support around 0.8630. Price action has been a little choppy around 0.86 since the breakout, but the bearish outlook remains intact.
EUR/GBP Daily Chart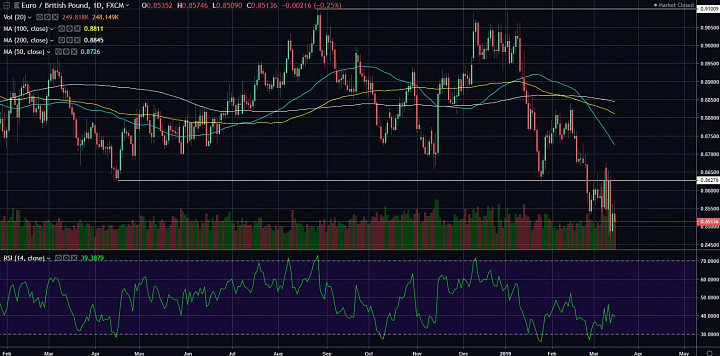 (click to enlarge)
Bearish-Neutral:
- While trend in 2019 has been bearish, the daily chart shows us that the mode since 2018 has been mostly sideways.
- In fact, if we look a the weekly chart, EUR/GBP has been essentially in a sideways market since late 2016.
- Before this multi-year consolidation, price action was bullish in 2015 until late 2016.
- With these considerations, we should start anticipating support near the range support, starting around 0.84 down to 0.8320.
- Note the key 200-week simple moving average (SMA) in this area as well, giving us another reason to anticipate at least some reactionary support here.
- I would not be surprised if price trips this support briefly before climbing back up.
- My general trade plan here is to enter lightly around 0.84 so that I would scale in more if it goes to say 0.83.
- If price indeed holds around 0.84, I would anticipate eventual upside back to 0.8620-30, with 0.88 also in sight.
- This is a "regression back to the middle" type of trade plan, so I would not be looking for price to go back to the range resistance area above 0.91.
- However, the 0.90-0.91 area would still be a viable target, though a bit aggressive at the moment.
- I would consider a way to lock in profit before considering these targets i.e. by using a trailing stop, and/or trim position size.
EUR/GBP Weekly Chart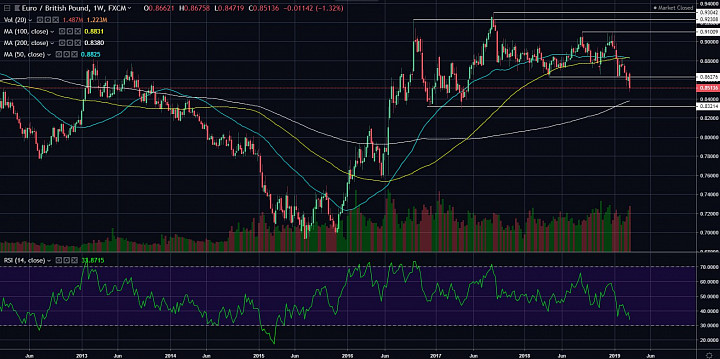 (click to enlarge)