ECB Holds Benchmark Rate; EUR/USD Remains in Recent Range
The European Central Bank (ECB) concluded its latest monetary policy meeting with essentially nothing new. The bank held its benchmark interest rate to 0% and is continuing its asset purchase program. Basically, the ECB has not turned the corner from its dovish stance toward a hawkish one.
Monetary Policy Decision Press Release (3/9)
EUR/USD 4H Chart 3/9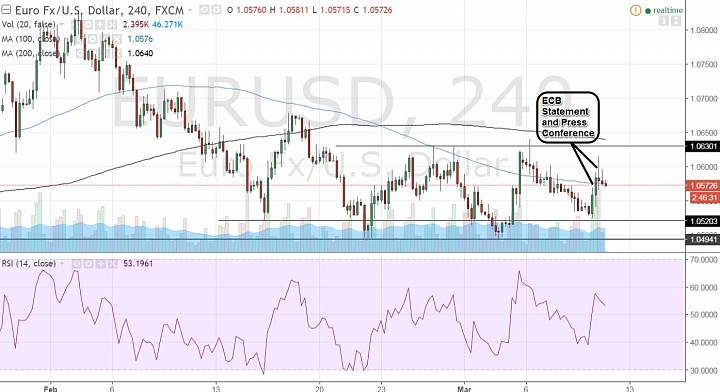 (click to enlarge)
Mixed Reaction:
- With nothing new to go on, the market didn't really push the EUR/USD either way. There was some initial bullish reaction, but the pair faded after the ECB press conference.
- Without much to go on and with the US NFP looming ahead, EUR/USD should remain in the current range. 
Anticipating Breakout:
- A clean break above 1.0650 should signal a bullish outlook, with the 1.08 in sight in the short to medium-term. The 1.10 handle would also be in sight for the medium-term.
- A break below 1.0490 on the other hand would push EUR/USD into new lows on the year. 
- First let's remember that the price made a low in January that basically broke below 2 years of consolidation support.
- Indeed it looks like bears have been in charge, and we should probably anticipate a bearish breakout instead of a bullish one.
EUR/USD Weekly Chart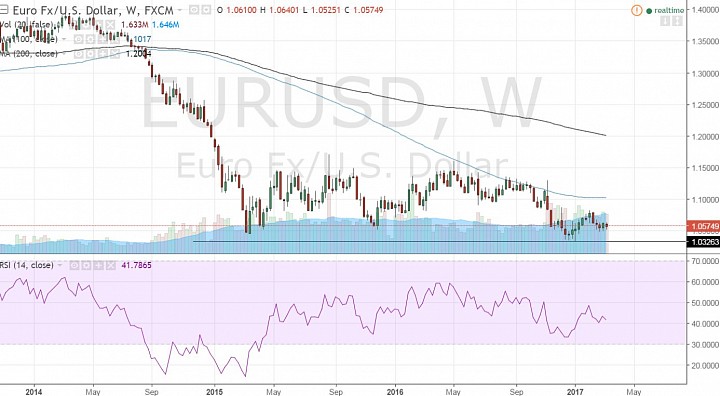 (click to enlarge)
Bears still in Charge:
- The weekly chart shows a market where bears are still in charge despite 2 years of consolidation (2015 and 2016).
- We saw price dip to new lows in 2017.
- It looks like bulls have failed many times to break above 1.15 and failed. Now, bears are working on digging new lows for EUR/USD. 
- The 1.03 handle could be in sight if price breaks below 1.0490, which would clear the current range support.