TAN - Potential Inverted Head and Shoulders
Guggenheim Solar (TAN) is a solar ETF. As solar stocks declined in 2015 and 2016 so far, so has TAN. 

TAN Daily Chart 4/1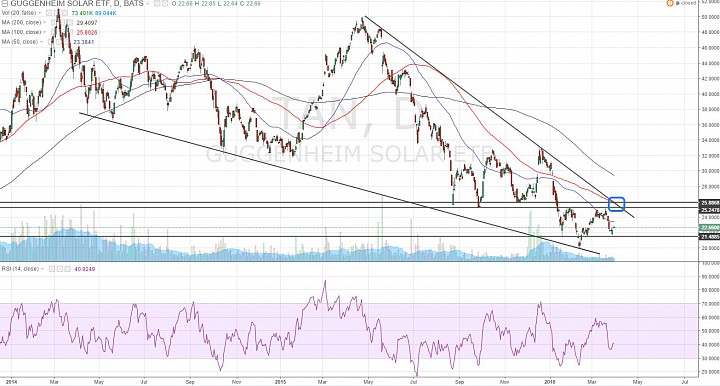 (click to enlarge)
Still Bearish: The daily chart shows a bearish market that is intact. Price is still trading under the 200-, 100-, and 50-day simple moving averages and the RSI stayed under 60 after it pushed below 30. 

Early Price Bottom Potential: However, there is some early indication that TAN might be bottoming. We should not get too excited yet, but it appears that after establishing the 20.00 support pivot, price held above 21.50, which has the potential to be the 2nd shoulder in an inverted head and shoulders pattern. 

In this scenario, the 25.25-25.90 area is the neckline and a previous support area that turned into resistance. Breaking 26 would clear the neckline as well as a falling trendline and the 100-day SMA. That would be a strong signal of bullish reversal especially if the RSI also pops up above 70. 

Reward to Risk: Let's see if TAN can make that first step to reach that 25.25-25.90 area. Let's say an entry is created to go long at 22.00, with a stop at 21.15 and a target of 25.20. That has a reward to risk of 3.20:0.85, or about 3.75:1.

Failure: On the other hand, a break below 21.45 however would invalidate this price bottom scenario and open up the 20.00 low again with risk of extending even lower because of the prevailing bearish bias and momentum.