Gold (XAU/USD) in a Bullish Breakout from Key Consolidation Resistance
Gold $XAU continues to rally and has broken above a key resistance around $1360-$1375. We previously noted that this was a key resistance and that holding under it would keep gold in consolidation mode.
Gold 4H Chart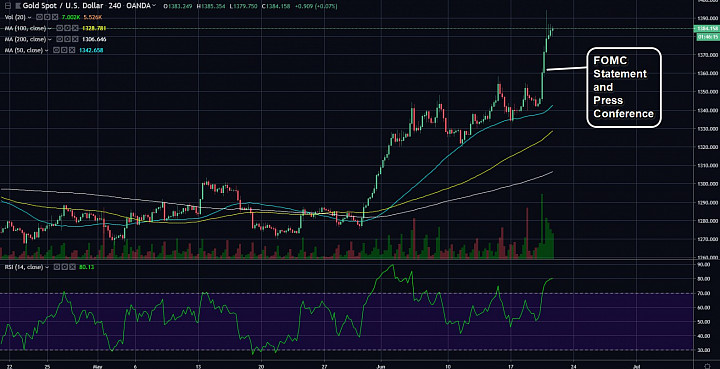 (click to enlarge)
Weak-USD Story:
- The recent rally extended during the 6/19 session after the FOMC meeting. While the Fed held rates, chairman Jerome Powell sounded dovish, which caused a bout of USD-weakness (USD/JPY broke below key support at 108).
- A weaker USD of course strengthens the price of gold priced in USD.
Bullish breakout:
- On the weekly chart, we can see a market that has shifted from a bearish trend to a sideways one since 2016.
- Since 2016, price has been able to make higher lows. However, the high has been stuck around 1375 or lower.
- This week, price has cleared this high since 2016 and is essentially signaling a completion of an accumulation pattern. We can call it a rounded-bottom.
- I think $1400 will still be key in this breakout.
- Meanwhile, if price starts to hold above $1350, we can see a strong case for a break above $1400.
- But bullish outlook should not involve price falling back below $1300.
- I think a clear break above 1400 opens up the 1500-1550 area, which was the neckline, or support area of the 2011-2013 price top. (see monthly chart below).
Gold Weekly Chart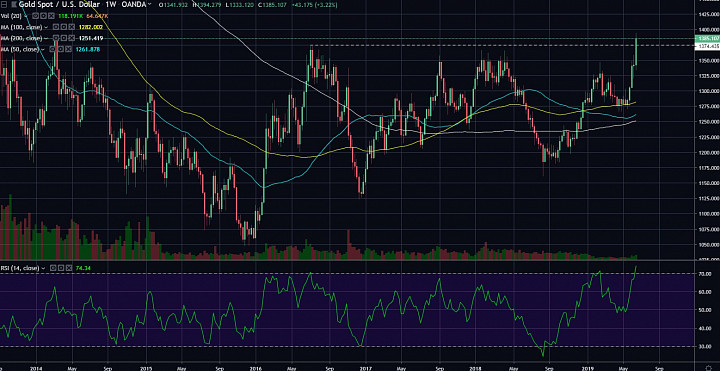 (click to enlarge)
Gold Monthly Chart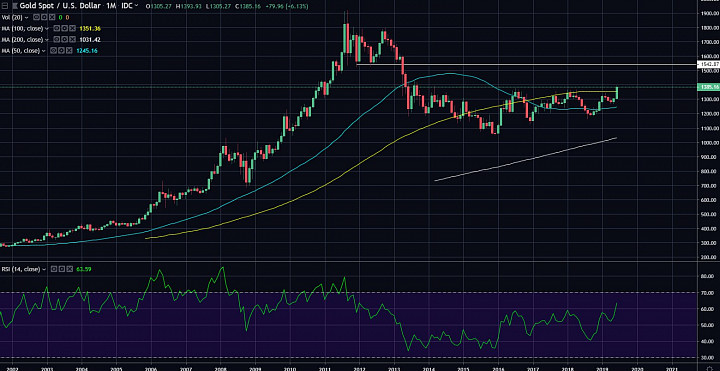 (click to enlarge)