AUD/JPY Testing Support at 96.50, Previous Resistance
AUD/JPY has been bearish in the past couple of weeks since finding resistance at 98.67. After a price top, price came down to 97.25 and pulled back. The price top was respected and another bearish swing materialized. As we begin this week, price is finding support around 96.50. Note that there was a support/resistance pivot from August 19-22 and the 200-hour SMA around 96.45. Also note that the 4H RSI is below 30, showing oversold condition.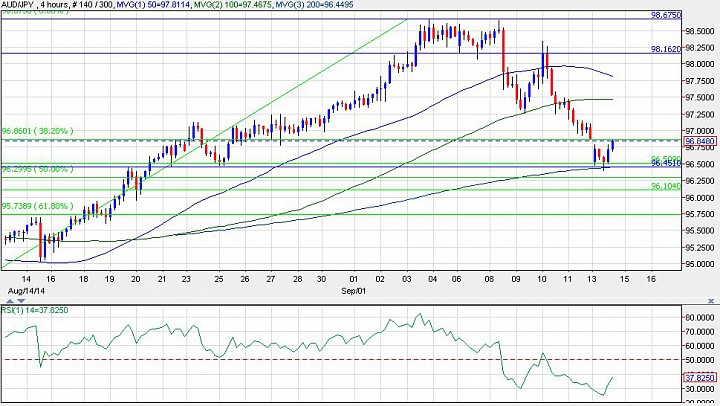 (AUD/JPY 4H Chart)
Even if AUD/JPY does not continue the bullish, we can expect some short-term bullish attempt as the 4H RSI shows oversold condition and as price tests the 96.50 area. 

When we look at the daily chart, we see that 96.50 was also the resistance to a multi-month consolidation between April and August. Before this consolidation the market was already bullish, so the break above it in August signaled bullish continuation. The current bearish swing is a pullback that can either confirm the bullish breakout or suggest another consolidation period. 

A bullish market should find support here at 96.50, or at 96-96.10. This is a lower common high during the April-August consolidation, and also where the 50-day SMA resides. 
A break below 95.70 might give the bullish outlook trouble. 61.8% retracement is at 95.74, and a bullish market should stay above this level. Also, if the daily RSI falls below 40, the AUD/JPY would be losing bullish momentum. 

So, look for price to hold above 96 and the daily RSI to hold above 40 to confirm the bullish breakout.