Crispr Therapeutics (CRSP) Confirming its Price Bottom
Crispr Therapeutics $CRSP is showing a picture perfect shift from a bearish correction in 2018 to a sideways consolidation in 2019, and now a potential bullish breakout in the second half of the year. In March, we noted that a hold above $33 was going to reflect a market that would be turning bullish.
Crispr Therapeutics (CRSP) Should Hold Above $33 in a Bullish Scenario
CRSP Daily Chart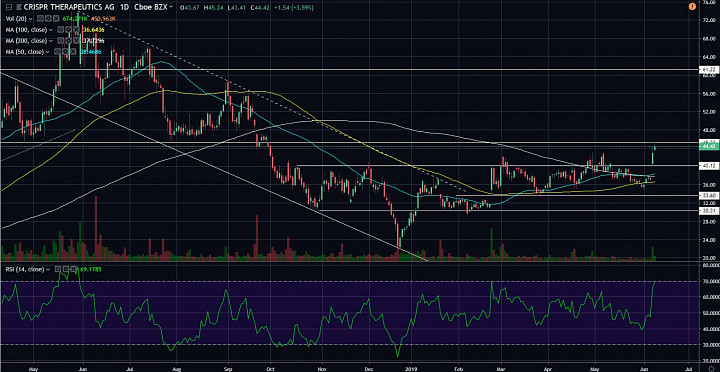 (click to enlarge)
Bullish Signs:
- As noted above, respecting $33 as support was a bullish sign.
- The RSI also reflected maintenance of the early 2019 bullish momentum as it held above 40 after the two times price trended down for a month.
- Furthermore, price is now clearing the 200-day simple moving average (SMA). You can count on more coverage of CRSP now that it is above the 200-day SMA. The exposure should help the feed-back mechanism and push CRPSP higher.
- Currently, price is dealing with the previous support around $45.25. If this fails to hold as resistance, we have more evidence of the bullish outlook.
- But even if it does hold as resistance in the short-term, CRSP would still have bullish picture if it can hold above the $38-$40 area.
Upside:
- Above $45-$46 area, there is potential upside back to the 2018 highers around $74.
- But I think we should first look at the $58-$60 area as a key resistance.