USD/JPY's Dip after the NFP Signals Further Correction
Last week, we looked at the USD/JPY as it threatened to break a consolidation range. We noted that a strong jobs report on Thursday signaled better-than-expected report for Friday.
Payroll employment up by 227,000 in January 2017 - Bureau of Labor Statistics

The thing is, the expectation immediately shifted, and yet, the USD/JPY did not rally. That was a sign that the jobs report would have to be tremendous and not just better-than-expected.

Precisely, even though the number of jobs added in January (227K) beat economists' forecasts (around 170K), it was nothing to write home about. The Unemployment rate rose to 4.8% from 4.7%, and hourly earnings only grew 0.1% (forecast was 0.3%). 

If the headline number made USD/JPY attractive to some, that meant enough buyers to continue buying as USD/JPY slid on Friday. This adds more fuel to the decline, which we saw extend on Monday (2/6). 
(click to enlarge)

Broken Support:
- As we can see on the 4H chart, the consolidation support was already cracked ahead of the NFP.
- The break was confirmed after the jobs report, and continued into Monday.
USD/JPY Daily Chart 2/7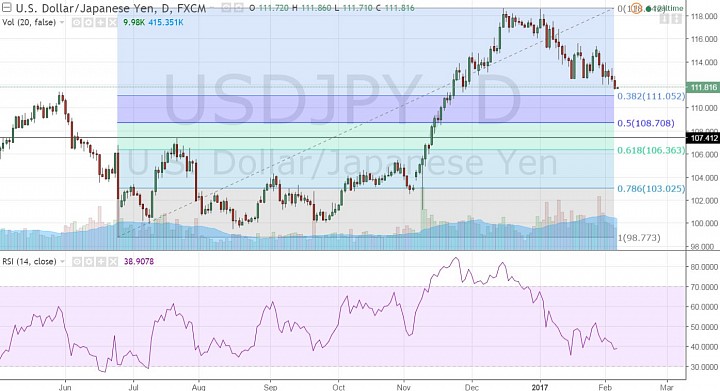 (click to enlarge)

Bearish Correction:
- The daily chart shows us that USD/JPY has been bullish in the second half of 2016. 
- It was a significant rally from lows around 99 up to about 118.50 by the end of the year.
- Then, we had a bearish correction in January and it is continuing into February after a couple weeks of consolidation. 
Where will the correction take USD/JPY?
- If we consider USD/JPY long-term bullish, which I do, we should look at the current bearish "trend" as a correction in the short to medium term.
- I would say that 110.00 is a psychological level and could provide some support.
- But, we should not be surprised if price continues toward the 107.40 pivot.
- However, bears should cap their bearish outlook to 106.40, right around the 61.8% fibonacci retracement level.
- Furthermore, if the RSI is showing bullish divergence after cracking 30, we should also consider the bearish correction to be almost done.