Under Armour (UA) Technical Analysis After the Split
First of all, the dip reflects the split, so we obviously can't look at it like a bearish swing. Just imagine it where more or less where it was - in an ascending triangle.
Some recent background: Now, heading into 2016, UA was bearish, retreating from above 105 to tag 64 in January. It had slid in market share, first time in 3 years. (marketwatch.com) Since, then, it has been consolidating in the aforementioned ascending triangle. I wouldn't get too tripped up about the slippage in market share. UA wants us to know that they are well positioned in China, which would be a great base for growth. (investors.com)
The RSI provides a bullish picture since it tagged 70 and has held above 40 (ignoring today's distorted dip). Price was above the moving averages, and looked like it was threatening to break above the triangle resistance. 
UA Historic Chart (Non-adjusted)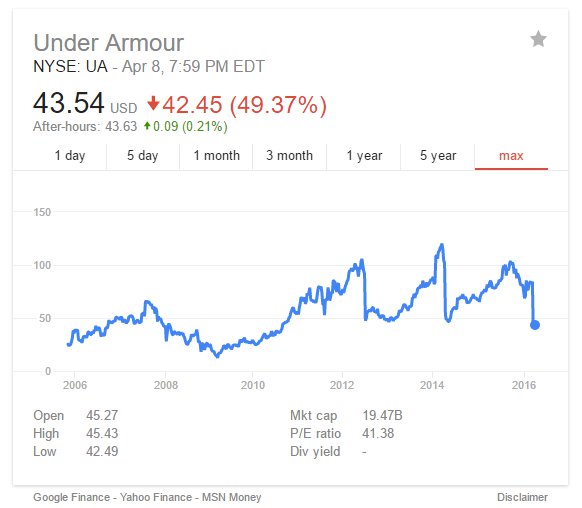 (Google)
Some charts will adjust the split going backwards to capture the charts true trend. But I think the unadjusted chart is more meaningful, showing the stock splits and what happened after the last 2. Also, seems like Mr. Plank (CEO) likes to split UA when it gets too 100. Note that after the last couple of splits, it took around 2 years to double up. 
The only difference is that heading into the most recent split, UA had a more pronounced bearish correction. But after all, the S&P 500 also had one of its most pronounced bearish correction since 2009 - so its mostly market risk, not so much business risk. The business seems to be humming along with new lines coming out each year, and increasing market share. (I personally started to convert from the brands I had built a habit of buying).
Basically, the story of UA heading into the stock split was one that had a significant bearish correction to a secular bull run since 2009. The bearish correction stalled and the stock was likely in an accumulation stage. The stock split could provide a catalyst for a nice push of 8-10% in just a couple of months, and maybe even 100% in a couple of years. 
Here is an article on the details of the split:
Split, This Is UA's Biggest Catalyst
JACK DELANEY, Associate Editor, Money Morning •
Wall Street has its eyes on the Under Armour stock split, which is set for Thursday, April 7. Through the split, Under Armour Inc. (NYSE: UA) will issue a new class of stock that will be distributed to investors via a 2-for-1 stock split.
While Wall Street is only focusing on the short-term impact, Money Morningdiscovered a much larger catalyst that could make the Under Armour share priceskyrocket following the UA stock split.
But before we get to that, here are the must-know facts ahead of the Under Armour stock split date.
Shares of Class C Under Armour stock will be distributed to shareholders of Class A and Class B stock on record as of March 28. These new shares will trade under the ticker "UA.C." Class A shares will still trade under the ticker "UA."
These new shares will not give investors the power to vote on company resolutions, board matters, or other matters.
CEO Kevin Plank owns all Class B shares, which have 10 times the voting power of Class A shares. Since Class C does not have voting powers, Plank will retain control over the company when the new shares are issued.
While a stock split does increase the amount of stock shareholders own, the split also reduces the price of shares. This lower price encourages new investors to buy in, which can drive shares higher. Plus, the more shares investors buy, the more money a company receives to grow its business.
This is the third Under Armour stock split in the last three years, and don't be surprised if more splits take place down the road. In a 2015 shareholder letter, Under Armour stated there will be "lots more regular splits" in the future.
Under Armour stock will receive a lot of attention this week, but here's the bigger picture we're focusing on after the April 7 Under Armour stock split.