Electronic Arts (EA) Threatening a Bearish Breakout; $75-$80 in Sight
Electronic Arts has been struggling as its latest game Apex saw unimpressive player reviews.
Electronic Arts (EA) Slides Sharply as Apex Legends Fail to Impress
In the previous analysis, I noted that the bullish breakout would still be in play if price can hold above $90. However, if $90 fails to hold, it would be a failed bullish breakout translating into a bearish market. This scenario is materializing, and news is adding pressure.
EA slides after losing licensing rights to Cristiano Ronaldo's team Juventus for FIFA 20
EA Daily Chart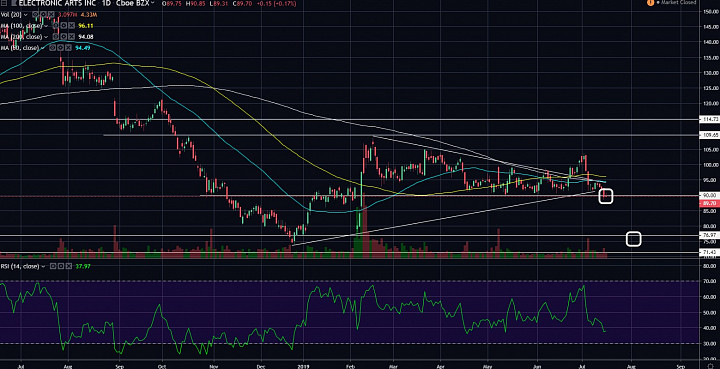 (click to enlarge)
Failed Bullish Breakout:
- Price broke above some key resistance factors in late June.
- However, it did not extend in July and instead retreated sharply.
- Now, as price cracks the $90 support, EA looks ready for a bearish swing.
- In this scenario, we can anticipate downside to $80.
- Under that, then the $72-$75 area is a key support/resistance pivot area.
- Below that, price might revisit the $60 area, which was a common support in 2015 and 2016.

Now that price has closed under $90, I am going to exit my 1/2 position size exposure around $90.
I think having dry powder for $80 and with more at $65 would be a good idea. Or, I would simply stay away from EA in 2019.

EA Weekly Chart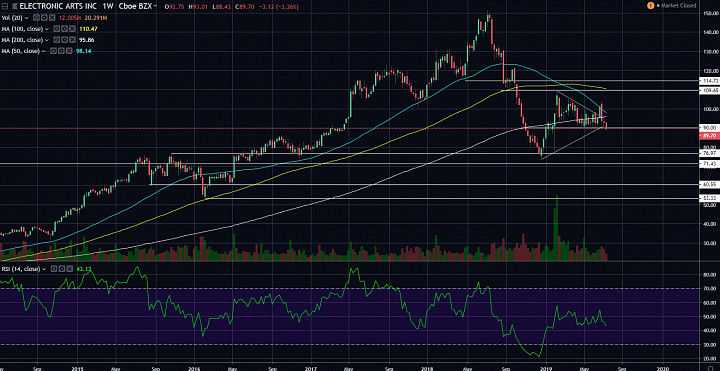 (click to enlarge)