Chipotle (CMG) Extends Breakout
Shares of Chipotle popped up to start the 1/10 session from under 400 to tag 420 before selling just under 415. We saw a breakout earlier in the week, and this rally extends the breakout, suggesting CMG could be turning things around. 

CMG 1/11 Daily Chart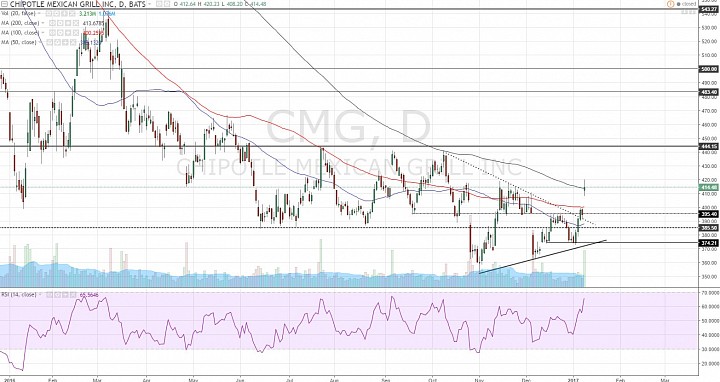 (click to enlarge)
Bullish Signals:
- We are seeing some signs that bears are losing control. Maybe these are not exactly bullish signals, but they could be early indicators of bullish reversal. 
1) The bullish breakout from the triangle is the 1st important bullish reversal signal. A break above 445 would further validate the bullish reversal scenario because it would be the threshold between a sideways market and a bullish market .
2) The RSI has pushed above 60, which suggests there is no prevailing bearish momentum. If it pushes above 70, we can be more confident of the bullish reversal scenario.
3) Price has cracked above the 200-day simple moving average (SMA). The next signal to look for relative to the SMAs will be a test of the 200-, 100-, and 50-day SMAs cluster as support. 

Here's a couple of articles from Jan. 10 that explain why CMG could be turning things around:

Chipotle Mexican (CMG) Dec. Comps, Management Tone Improves - Buckingham Research:

Buckingham Research analyst John Zolidis reiterated a Buy rating and $547 price target on Chipotle Mexican Grill (NYSE: CMG) after the company reported that comps rose 14.7% in December. Zolidis noted management tone has improved.
Zolidis commented, "We believe CMG is starting to feel momentum swing favorably and our sense is that the company is getting its arms around execution related challenges. This follows a very difficult year. Surely this is not a guarantee of improved results but our confidence has increased that the corner may have turned. We continue to like the stock and view the extreme short term focus of many cautious investors as an excellent opportunity to invest in the long term recovery and growth story. Our estimates are under review pending analysis of the company's results." (Full Article on streetinsider.com)
Here's Why Chipotle (CMG) Stock Gained Today.
Shares of Chipotle CMG gained more than 4.9% on Tuesday after the burrito chain announced a smaller decline in comparable store sales during the fourth quarter, including a major recovery in December.
Chipotle said that same-store sales fell 4.8% in Q4. Comps were down 20& in October but fell just 1.4% in November and gained an impressive 14.7% in December. It's important to note, however, that Chipotle's food safety scandal began in October 2015, and the company faced easier comparisons in these later months.
Since the onset of Chipotle's E.coli outbreak, the stock has dropped nearly 50%. Also, management previously guided for Q4 comparable store sales declines in the low single digits, which means today's figures are not that surprising.
Chipotle also reported quarterly sales of $1.04 billion. This came in below the current Zacks Consensus Estimate of $1.05 billion.
The fast-casual Mexican chain also said that it was hampered by higher-than-expected costs thanks to an uptick in spending and advertising, as well as a global increase in avocado prices...(Full Article on Yahoo Finance)