SolarCity (SCTY) and Tesla (TSLA) after the merger approval
(CNBC 11/18/2016) Shareholders for SolarCity and Tesla voted Thursday to approve merging the two companies.
"Tesla's shareholders have overwhelmingly approved our acquisition of SolarCity," said a statement from Tesla sent to CNBC. "Excluding the votes of Elon and other affiliated shareholders, more than 85% of shares voted were cast in favor of the acquisition. With SolarCity's shareholders also having approved the acquisition, the transaction will be completed in the coming days."
Tesla will pay $2.6 billion to acquire SolarCity, which has struggled financially despite revenue growth. (Full Article on CBNC)
Let's take a look at how the market has reacted so far in SolarCity (SCTY) and Tesla (TSLA).

SCTY 4H Chart 11/21


(click to enlarge)
Key resistance around 21.00:
- So far, SCTY had one full session to see how the market reacted.
- At first price jumped up on Friday (11/18), but found resistance at the consolidation resistance just above 21.00.
- If price can climb above this consolidation resistance this week, the chart would suggest optimism, which should lead to further bullish extension. 
- 24.50-25.00 could be the next key resistance. This is close to a 20% pop from where it is now. 
- If price falls below 20.00 on the other hand, it means the market is not impressed. But the downside is limited to 18.50, the consolidation range support area. A break below 18.30 then opens up 16.00-16.50, which is a critical support.

TSLA 4H Chart 11/21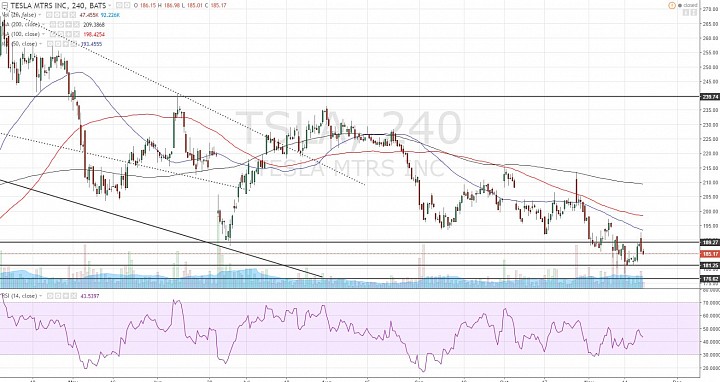 (click to enlarge)
Still Bearish, Monitor 170.00:
- TSLA still looks bearish after the 11/18 session.
- The 4H chart shows the continuing pattern of lower highs and lower lows. 
- The thing is, when we look at the daily chart, what stands out was the V-shape reversal earlier in the year. 
- The V-shape reversal tells me that the market in 2016 has at least neutralized the previous downtrend if not turned it bullish.
- Because of this V-shape, I am limiting my bearish outlook in case that was indeed the basis of a bullish trend going into 2017. 
- For now, the bears are in control, but I would watch the 168-170.00 area for support.
- This area involves the Fibonacci retracement level of 78.6% (this is a deep retracement). 
- It also involves the psychological handle of 170.00. 

TSLA Daily Chart 11/21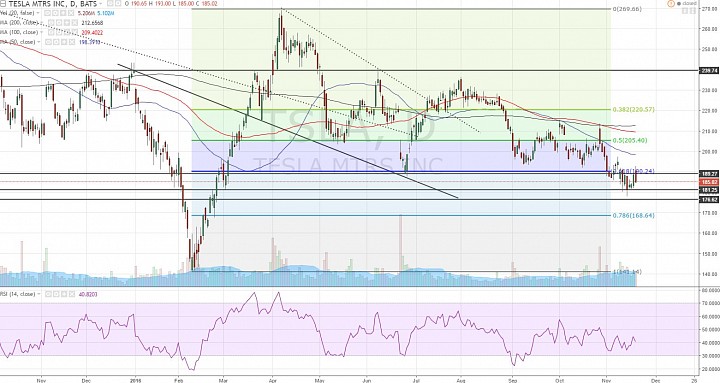 (click to enlarge)