Intel (INTC) Completing a Year-Long Head and Shoulders Pattern
Intel Corp. $INTC is likely completing a year long price top, and opening up a bearish outlook going into 2019. If and when price breaks below $42 a share, INTC would be breaking the neckline of a head and shoulders pattern.
INTC Daily Chart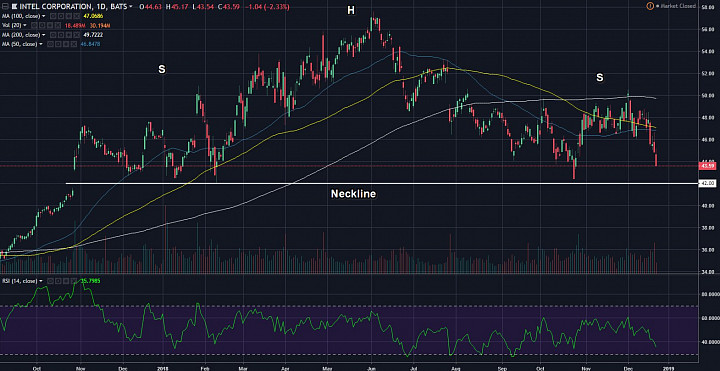 (click to enlarge)
Support at $42:
- Note that there is still support at $42.
- However, I would not rely on it outside of a short-term bounce or consolidation around it.
- Price held under the 200-day while the RSI held under 60 after it previously already dipped below 30. These are signs that bears are now in control.
- Along with general market risk aversion, these are reasons not rely on the $42 support.
- But let's say we do get a bounce there at $42.
- I would limit the upside to $46, which was the low and support in November.
- A break above $50 is very unlikely, and would be a strong signal for bullish reversal.
Downside:
- If you believe the general equities market is done with its correction, the $40-$42 might be a good level to consider buying in.
- However, if you believe we are just getting started and the market correction will take months to maybe even a couple of years, then, we should anticipate more downside in INTC.
- The next support could be around $37-$38. This was a key resistance back in 2016-2017.
- I think this is a good support if the general market was stable.
- However, because we are in a significant market correction, I would not be surprised if INTC falls down to the $33 area.
- This involves the 2017-low, and a lower trendline support.
- If we see price around $33, with the RSI below 30, we can expect a rebound, especially if the general market also stabilizes.

INTC Weekly Chart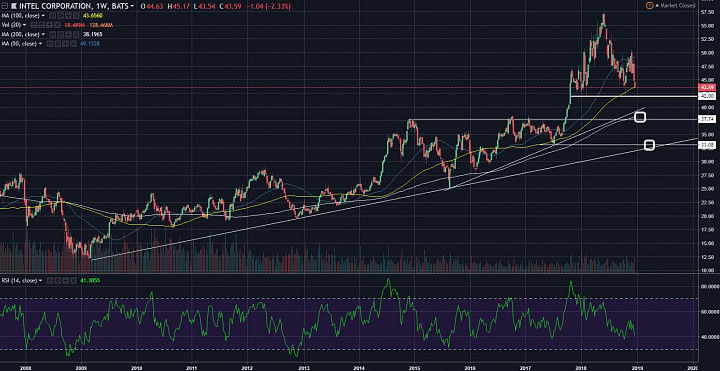 (click to enlarge)