Alibaba (BABA) is on America's Notorious List
(BABA) Taobao.com e-commerce platform has been added to the United State Trade Representative's list of 'Notorious Markets.' The stock is more than 1 percent lower in pre-market trading.
The list includes online and physical markets that have an exceptionally high proportion of counterfeit goods being sold. Alibaba's Taobao, which is a consumer-to-consumer marketplace and operates much like eBay, was taken off the list four years ago, but now finds itself placed in the same league as 4Shared.com and Pirate Bay.
In an official statement released today, the company said it wonders if the USTR acted based on facts or whether it was "influenced by the current political climate." Alibaba President Michael Evans said, "The decision ignores the real work Alibaba has done to protect IP rights holders and assist law enforcement to bring counterfeiters to justice."
Read more: Why Alibaba Is on America's 'Notorious' List (BABA) | Investopedia http://www.investopedia.com/news/why-alibaba-americas-notorious-list-baba/#ixzz4TZTLqhFf
Follow us: Investopedia on Facebook
BABA Daily Chart 12/22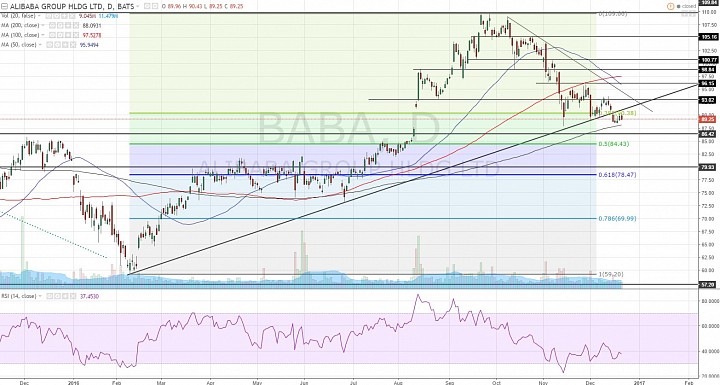 (click to enlarge)

Broken Support; Bearish Targets:
- As we can see on the daily chart, price has been supported by a rising support in November.
- But this support failed last week, and price has been trading under the rising support this week.
- It does NOT appear to be a strong bearish breakout, and the signal is very subtle. A break below 87.50 would confirm further downside risk.
- I think 80.00 is an area we can expect support. It is just below a support/resistance pivot area and is a psychological level. 
- I would not look for a bearish outlook past 61.8% Fibonnaci Retracement around 78.50.
The Bullish Scenario:
- I would not be looking for a bullish scenario until price at least rallies back above 96.00.
- If that happens, we might want to consider a bullish continuation scenario back towards the highs around 109.
- I think price action is telling us that the market is leaning towards the bearish scenario instead.