EUR/USD in Range Breakout; Opens up at Least 1.20
EUR/USD closed last week with a bullish breakout from a multi-year range consolidation. While the breakout has not been that strong yet, it does reflect a shift in trend, especially because the breakout is caused by a sharp bull run.

EUR/USD Weekly Chart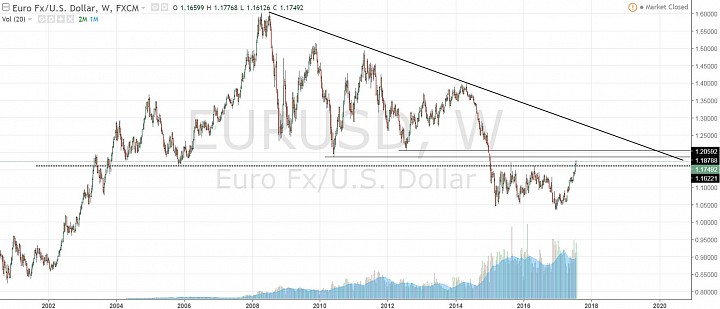 (click to enlarge)

Breakout:
- The weekly chart shows that EUR/USD is pushing above a range that it has been trading in since 2015.
- Note that the latest bullish swing was much sharper than the previous attempts to challenge the resistance just under 1.18.
- And not surprisingly, this sharper bullish attempt has broken the range resistance.
Upside:
- While EUR/USD is bullish in 2017, we can see that the overall mode since 2007 has been sideways with a slight bearish bias. Basically, EUR/USD has been in a long period of consolidation.
- Because of this prevailing consolidation/correction mode, we should limit the bullish outlook in EUR/USD.
- For now, the 1.1875 and then 1.20-1.2050 levels are the short-term upside potential for the current bullish breakout.
- I think the maximum bullish outlook at the moment would be to 1.25, where price will be testing a key support/resistance area as well as a falling trendline.