EUR/GBP Testing November's Range Resistance
EUR/GBP refused to continue a downtrend last week and instead found support at November's low near 0.78. As we begin the week, the pair is testing the month's range resistance just above 0.7860. 

EUR/GBP 1H Chart 11/10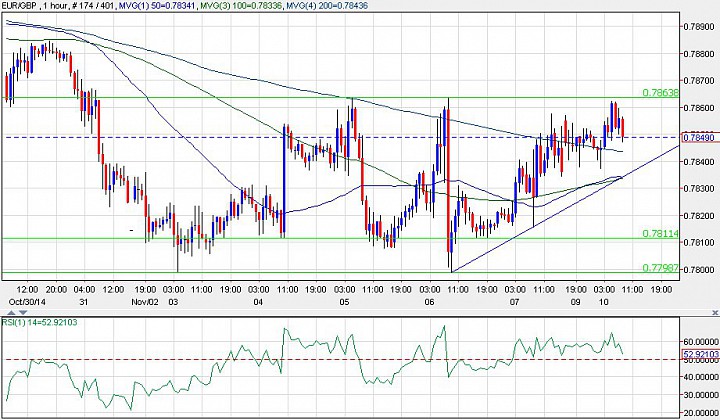 (click to enlarge)
Let's consider the fact that the prevailing trend is bearish, even though the mode in the 1H chart is neutral with some near-term bullish bias as price ascended above the 200-, 100-, and 50-hour SMAs. 

The ECB is gearing up for QE, which is dovish, but the BoE was slightly dovish as well as it is no longer shooting to raise rates early 2015. However, the ECB's monetary policy stance will be looser than the BoE's and there should still be downward pressure on the EUR/GBP, especially after some consolidation as we had so far in November.

Let's take a look at a trade idea at this consolidation range resistance:
Trade Idea: Sell @ 0.7860
Stop-Loss: 0.7875 (Risk of 15 pips)
Target 1: 0.7815 (Reward of 45 pips) - A more common support above the range low
Target 2: 0.78 (Reward: 60 pips) - The range low
Reward to Risk for Target 1: 3:1
Reward to Risk for Target 2: 4:1
Even if the short entry is not ideal, and end up at 0.7850, the risk is 25 pips and the reward for reaching the range low is 50 pips, yielding a 2:1 R:R.