NFP Disappoints with a 142K Reading: USD Stalls
Non-Farm Payroll data for August disappointed. coming in at 142K while forecasts averaged around 226K. The print was lower than even the range of forecasts by Bloomberg's survey, which was 190K-310K. You can see that there was a generally optimistic forecast after July's 212K reading. 
The unemployment rate edged lower to 6.1% from 6.2%.
The 142K print is the second lowest in 2014, next to January's 129K.

(click to enlarge; source:
forexfactory.com
)
Employment has been improving since Q1, but it looks like it peaked in Q2, after which July and August data have disappointed. 


So, will this knock USD off its bullish track?
So far in the near-term, we are seeing some USD-negative reaction. But such a disappointing data for such an important data point is having a relatively muted reaction. Perhaps, traders just don't want to go against the might greenback, not with only one bad data amid a block of good data in the past couple of months.
The USDX rallied sharply during the 9/4 session, and stalled just under 84.00. The NFP data dragged it to 83.56, but there does not seem to be much momentum.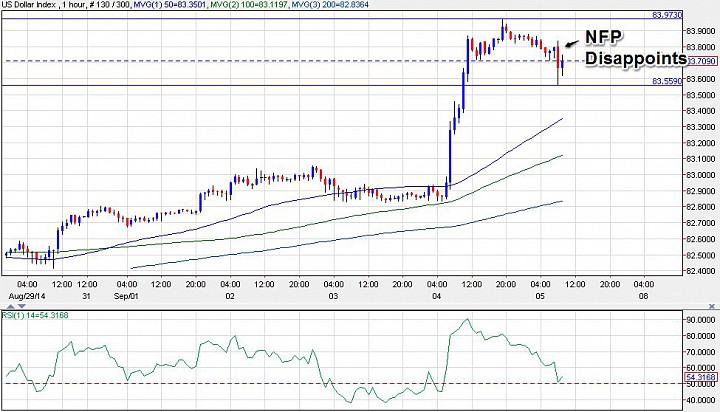 (USDX 1H Chart 9/5)
Even if the USDX falls further, the bullish outlook will remain unless it falls below 82.65 and thus below this week's low. We should expect buyers when the 1H RSI comes back to 40, and when price testes the 50-hour or 100-hour SMAs. in in the 81.10-81.35 area.