Bears Remain in Control of Alibaba (BABA) - Anticipating 50% to 61% Retracement
Alibaba $BABA shares are struggling in 2018 amidst the China-US trade war. This week it fell through another key level that was around $150 share price. How low will it go?
BABA Weekly Chart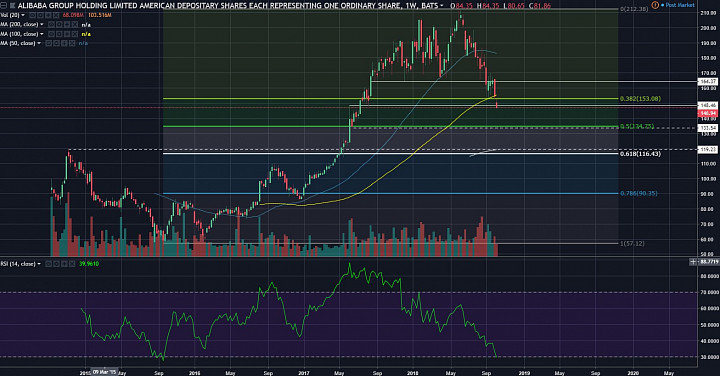 (click to enlarge)
Breaking Key Support:
- Note that the 38.2% retracement level was just above $150 and was providing support, but is now broken.
- Furthermore, there was a support/resistance pivot around $148.50, and that broke too.
Fibonacci Retracement Levels:
- Sometimes traders like to use Fibonacci Retracement Levels to guide their entries. I think the 50% and 61.% retracement levels will be sticky. Otherwise, we might see price find anchor back up between these levels.
- 50% retracement is around $135.
- 61.8% retracement is around $116.
- Indeed, I think $135-$140 is the first key support area. I think the market is still pricing in the trade war among other fundamentals, but I don't think there will be more than another 10% dip.
- But if there is another escalation of the trade war that has not been priced in yet, the momentum might drag BABA down to the $116-$120 area,
Personally, I have been rotating out of the market into cash, although some trades have been triggered this week due to the dips. I think it is prudent to get dry powder ready for the potential market correction coming up. As a long-term investment play, I am planning to start adding around $140 all the way down to $115.