USD/JPY - Bearish in the Short-term; Reward to Risk Assessment
USD/JPY has been rallying since late March from lows around 104.63 to a high around 111.40 in May before retreating in the last couple of sessions. I think this rejection around $111 will open up the $108 area, or just above it.
USD/JPY Daily Chart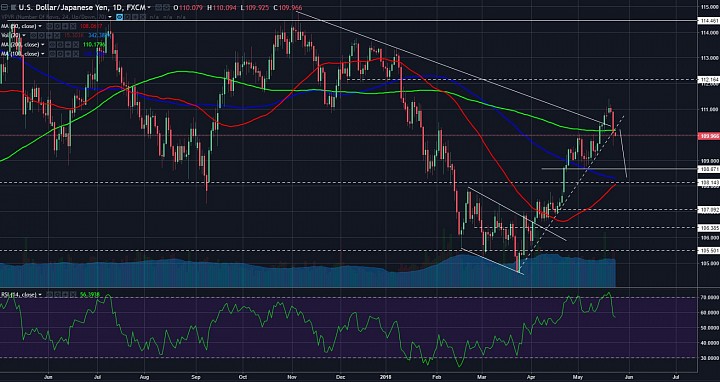 (click to enlarge)
Expecting a Pullback:
- After about 2 months of rallying, I think USD/JPY is due for a pullback.
- I think price will likely hold under $111 and push towards $108, or at least the 108.15 area.
Reward to Risk:
- Let's say our target is 108.15.
- Let's also say that a break above 111.40 should close this trade.
- If our entry is around 110.80, we would have risk of 60 pips, with a potential reward of 265 pips. This is a better than 4:1 reward to risk profile.
- This would be the ideal scenario, entering after a bounce to 110.80.
- But if the market is bearish, it might NOT bounce up to 110.80.
- What if the try is around 110.15.
- Then, the reward is around 200 with a risk of around 125 pips. This is probably the lowest entry point with acceptable reward to risk profile just under 2:1.