Philip Morris Int'l (PM) Gaining Momentum to Test $92.40 Resistance
Philip Morris $PM likely has been in a bullish reversal attempt since late December when price came down to about $65. On the daily chart, we can see that price then rallied back to a multi-month high and resistance at $92.40. The fact that price was able to rebound to such a level is a sign that PM has turned from bearish to at least sideways if not bullish.
PM Daily Chart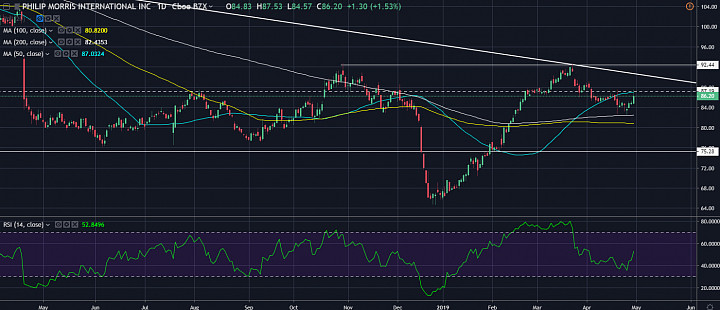 (click to enlarge)
Bulls Gathering Momentum:
- As we can see on the daily chart, the rally since December was strong and is a bullish signal.
- Furthermore, note that price is now holding above the 200-day simple moving average (SMA). This would be known as a bullish sling-shot signal.
- Finally, the RSI held above 40 for the most part, which reflects maintenance of the bullish momentum since December.
- I think the market is on its way to test the $92.40 level again. This rally, would also break a falling trendline.
- Then, a break above $92.40 would be a bullish reversal confirmation.
- In this bullish scenario, PM would open up the highs just above $120.
- If price instead falls below $80, we should anticipate pressure back to the $76 support. This is a critical support for the neutral to bullish scenario. The range would be between $76 and $90-$92.
- However, a break below $75 would open up that 2018 low around $65.
PM Weekly Chart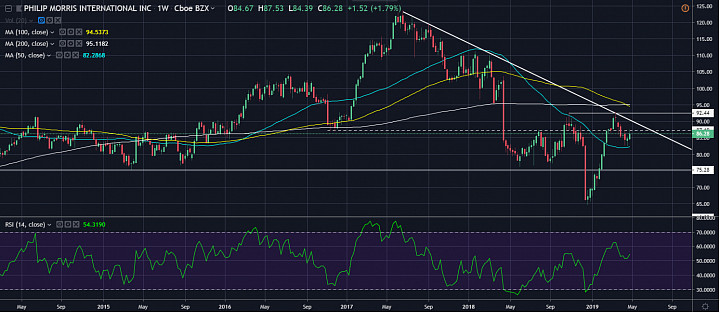 (click to enlarge)