Twitter (TWTR) - Price Action Suggests That the 2016 Low Will Break
Twitter has been trading in a sideways consolidation since 2016. Before that, it was in a sharp bearish trend in 2015. Now in 2017, I think the downtrend will continue, though maybe not as sharp as in 2015. 

Twitter (TWTR) Daily Chart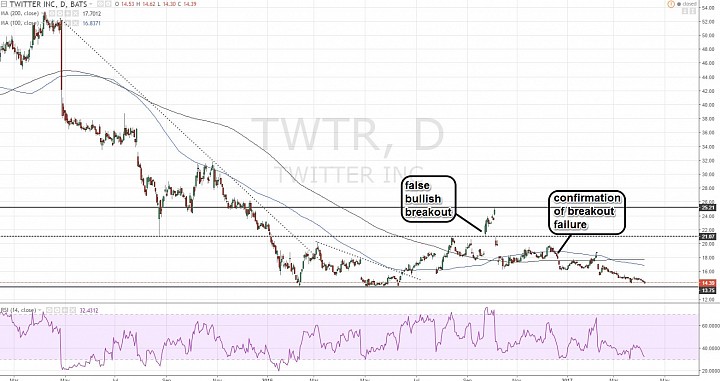 (click to enlarge)

False Breakout:
- In 2016, price not consolidated, but also attempted a bullish reversal.
- After price broke above 20-21 resistance area, it extended higher and even cracked 25.
- But after that, price started retreating and did not respect the price bottom.
- This false bullish breakout essentially signals a subsequent bearish reclaim of the market. 
- Therefore, I think the 2016 low around 13.75 will break and we will see Twitter around 10 in 2017.

Playing Support - Reward vs. Risk:
- Now, if you believe Twitter will hold this line here around 13.75, it is actually a good time to consider buying on this dip.
- The only thing is, the upside might be limited in the short-term - It might take a while before Twitter really establishes a price bottom. In the mean time, we might see price continue to chop sideways.
- So, I would limit upside to 16 and 18. If price then can hold above 16, I would look for an attempt to 20. 
- But I think even if there is a bounce from 13.75-14 area, we will see resistance around 16-18.
- Given a limited upside, if you are looking at buying from 14 with a stop just below 13.00, you can get a 2:1 reward to risk, with a target just above 16.