Advanced Micro Devices (AMD) Finally Taking a Breather
Advanced Micro Devices $AMD had a phenomenal year after it almost fell to almost $9.00 in April. It has since rallied to tag $34 a share in September. However, since that $34 high, price has been consolidating, and is now in a bearish correction swing.
AMD Daily Chart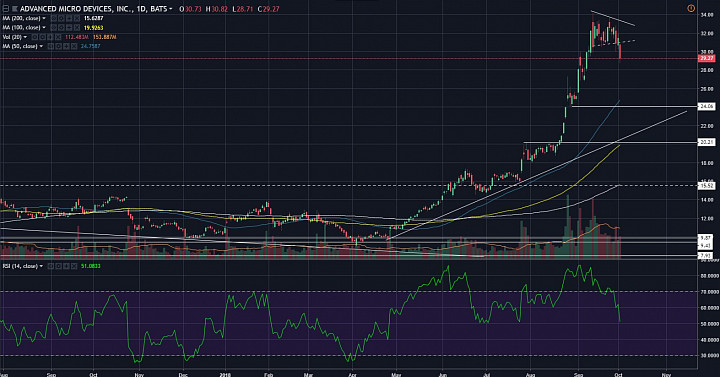 Support and RSI:
-AMD could still be a bullish play going into 2019, so a buy-on-the-dip trade idea can be considered. - If so, where should we anticipate support?
$20; RSI Oversold:
- First of all, $20 is the next critically psychological support. It is also a previous resistance pivot that can turn into support.
- If price falls to this level, it will also likely be testing the 100-day simple moving average (SMA).
- More importantly, a dip to $20 will likely bring the RSI down to oversold (below 30) levels. From here, we can anticipate upside at least back to $24 even if the market is still in consolidation.
$24-$25; RSI to Reflect Maintenance of Bullish Momentum:
- $24-$25 is also a possible support.
- This involves the 50-day simple moving average, and price has stalled here before in August.
- Plus, the RSI would likely be testing 40, and if the bullish momentum this year is still in play, it should turn up from, and price should turn up to test the $30 even if it is eventually going to lose that bullish momentum and fall into a correction/consolidation mode.

I think if the overall market is also in a correction, we can expect the $20, deep correction. Otherwise, we might want to anticipate support at $24-$25.