UBER vs. LYFT: So Far UBER Remains the Winner
LYFT Inc. $LYFT has stalled after its plunge since the IPO. Meanwhile, the price chart is showing us some key support and resistance levels.
LYFT 4H Chart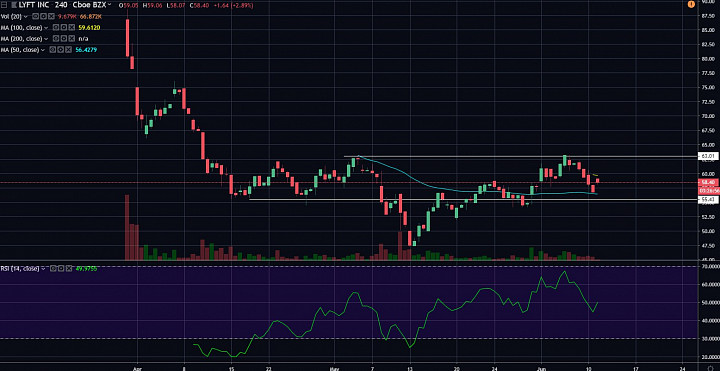 (click to enlarge)
Initial Dump and Rebound:
- As we can see on the 4H chart, the IPO entered the secondary market around $87 and fell straight down.
- A month and a couple of weeks later, price tagged a low around $47.50.
- Since then, it has been climbing up, and was able to return to the early May-high around $63.
- Price retreated from $63. This is now a key level and barrier for any bullish outlook.
Support:
- There is also a common support around $55. If price can hold above $55, it would be a sign that the market is no longer bearish.
- Otherwise, a break below $55 could open up the $47.50-$48 low again, with prospect of falling lower.
- On the other hand, a break above $63 can open up the $70 handle.

UBER's price chart has looked better. After an initial dump, it has been able to make a higher high and a higher low relative its initial high and low:
$UBER 4H Chart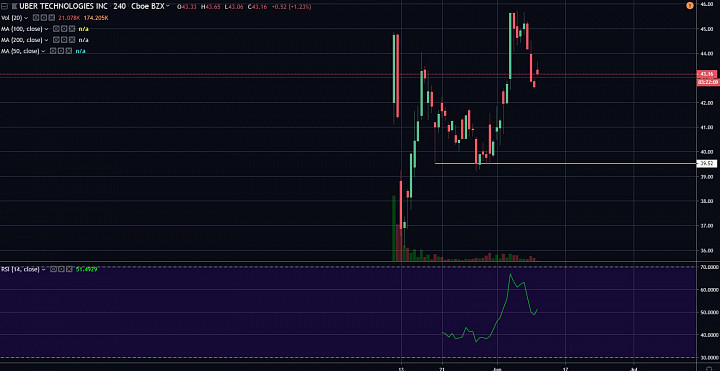 (click to enlarge)
Key Support:
- The UBER price chart around $39-$40 shows a key support around $39-$40.
- Ability to hold above this level should maintain a bullish-neutral outlook for UBER.
- A break lower however can put UBER into the same situation as LYFT and open up the lows around $36.50-$37.


In the latest round of UBER vs. LYFT, we are seeing competition in the bike sharing segment: LYFT is suing the city of San Francisco "claiming that the city is violating its 10-year contract with Lyft that would give the company exclusive rights to operate bike-share programs. " (TechCrunch.com) It is trying to elbow UBER out of the bike sharing space in SF, where both companies are headquartered.
I don't think LYFT will win this small battle. At the end of the day, I think UBER has more upside. After all, it has more than 4x the market cap. UBER ($72.72B) vs. LYFT ($16.80B) as of 6/11/2019.
Some might say LYFT has that underdog advantage, but that would only apply if UBER was an old company with a rigid culture. The market has a similar attitude, which is reflected on the charts of UBER vs. LYFT.
Disclosure: I have a very small exposure in LYFT with cost basis of $51. I am considering a small exposure in UBER as well if it falls to $40.50.