Unilever (UN) Plunges after Report of Slower Growth
Shares of Unilever (UN) fell around 5% during the Thursday (1/26) session. 
LONDON -- Unilever PLC reported slower sales growth for last year, spooking investors and underscoring the cost-cutting pressure that consumer-goods companies face as they struggle to sell more of their staples, from soap to packaged food, around the world.

Unilever, the world's second-largest consumer-goods firm by sales after Procter & Gamble Co., is hoping to squeeze about EUR1 billion ($1 billion) in savings out of costs by next year in an effort to boost margins and stay profitable. It reported a 5.5% increase in net profit for 2016 over the year earlier, to EUR5.5 billion.

But the maker of Hellmann's mayonnaise and Ben & Jerry's ice cream, hasn't been able to lift sales growth, a key metric. Revenue dropped 1% on the year, hit by unfavorable currency changes. So-called underlying sales growth, which strips out foreign exchange and acquisitions, slowed to 3.7% from 4.1% in 2015. Unilever shares closed 5% lower on Thursday in London. (full article at marketwatch.com)
Since late November, UN has been on a bullish run. However, as we will see on the daily chart below, the rally might have simply been a consolidation flag pattern. With a break below, we should consider resumption of the bearish mode we saw from September to late November.

Unilever Daily Chart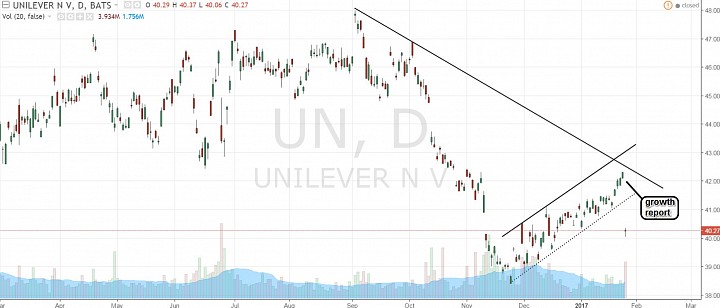 (click to enlarge)

The weekly chart below shows that if this week's price closes under 41.00, we would see a bearish engulfing candle, which signals further downside. The downside target for a bearish market would be first to 38.50, near the 2016 low. The most aggressive target at the moment should be limited to 36.60-37, which would be the lower bound of the flat support since 2013. We might want to anticipate some strong buying there around 37.