Silver (XAG/USD) - Expecting Support Around $13.60-$14.00 to Hold
Silver vs. US Dollar $XAGUSD has been bearish in 2018. When we look at price action since 2016, we can see that this is really 2 swings with a period of consolidation in the middle (2017). We can also see that price is near its 2015-2016 lows in the $13.60-$14.00 area.
Silver Daily Chart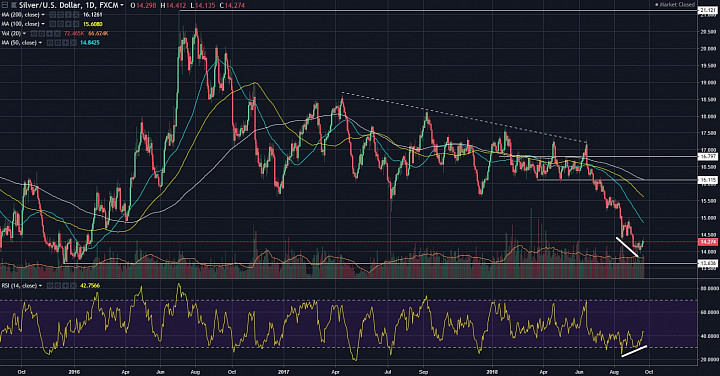 (click to enlarge)
Anticipating Support:
- Note that as price tested $14, price action formed a bullish divergence against the RSI (price made a lower low, but the RSI made a higher low).
- Along with the fact that price is near the 2015-2016 lows, we should see this as a sign that the market is also looking at this area as support.
Reward to Risk:
- Let's say we anticipate a support here, with upside to a conservative target of $16, and an aggressive one at $20.
- Let's also assume that a break below $13.60 invalidates the bullish outlook. Given some elbow space, let's say we put a stop at $13.40.
- Finally, let's make the assumption we will be able to get an entry at $14.20.
- We can see that reward to risk is 1.8:0.8 or 2.25:1 for the conservative target ($16). It is 5.8:0.8 or 7.25:1 for the aggressive target ($20). This is a strong reward to risk profile in my opinion.
Failure:
- The above trade idea assumes the market has shifted into a sideways market. Note that even the aggressive target is within the range set by price action since 2016.
- However, if this "range" breaks down and price slides under $13.60, we open up downside towards the $8.50-$10.00 area, the lows in 2008-2009.
Silver Weekly Chart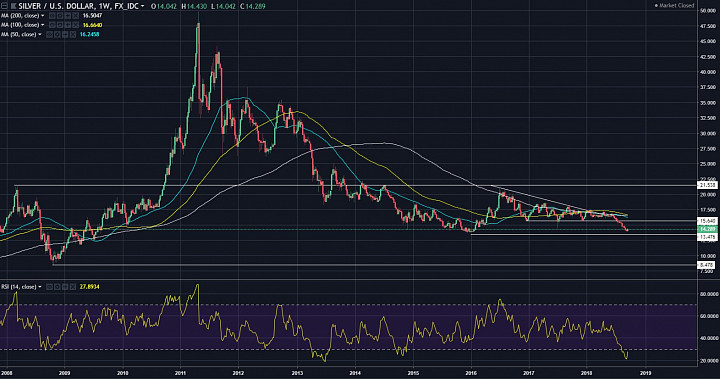 (click to enlarge)