Square (SQ) Retreats after Q3 Earnings and Maintains ST Bearish Outlook
It seems like the common theme this earnings season is companies meeting or beating estimates while lowering guidance. This has generally led to a sell-off. Square $SQ could not escape this fate after releasing its Q3 earnings report before the 11/8 session.
According to Zacks.com:
Square Inc. (SQ - Free Report) delivered robust third-quarter 2018 adjusted earnings of 13 cents per share, which beat the Zacks Consensus Estimate by 2 cents and also exceeded management's guided range of 8-10 cents per share. The figure also soared 85.7% on a year-over-year basis and came in line on a sequential basis.
Net revenues of $882.12 million surpassed the Zacks Consensus Estimate of $860.52 million and also came ahead of the revised guided range of $840-$860 million. The figure increased 51% from the year-ago quarter and 8.2% on a sequential basis.
To me, this is hardly a "bad" earnings report, but during the current risk-averse environment, SQ might continue to be in correction mode. At least that's what the price action suggests.
SQ Daily Chart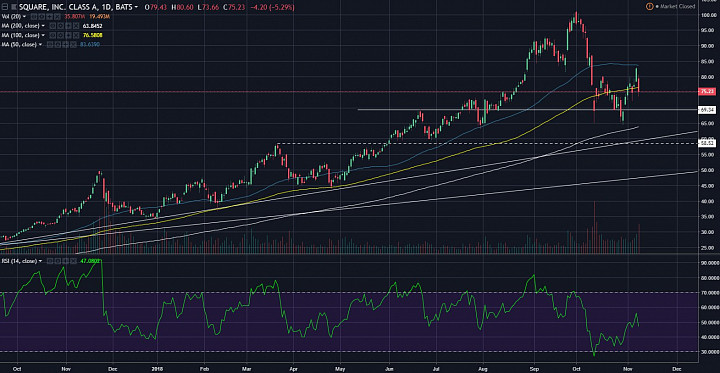 (click to enlarge)
Short-term Bears in Control But Long-term Bullish Trend Remains Dominant:
- First I want to note that price has remained above the 200-day simple moving average (SMA), which suggests that the overall bullish trend is intact.
- However, the fact that price retreated around $84 suggests bears are still in control.
- Furthermore, the RSI has already dug down below 30. And now if it holds below 60 and drops back below 40, we would be observing a market still in bearish correction mode.
- I think price will come back to the $65 level, with the prospect of falling towards $60.
- But I would limit my bearish outlook to $60 because the overall bullish trend is still strong, and the Q3 earnings report did not reveal any critical risks to SQ's growth.