Electronic Arts Inc. (EA) Rises Above the 200-day Moving Average: $100 Will be Key
Electronic Arts $EA has been consolidating since late 2018 after a correction from heights around $150 a share to $75. After this 50% correction, price has shown some bullish signs.
EA Daily Chart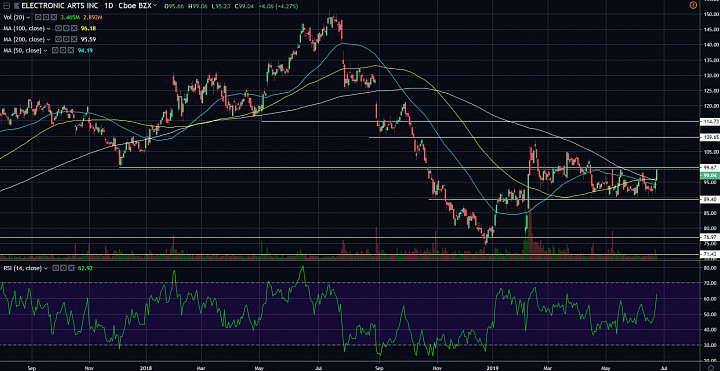 (click to enlarge)
$100 Resistance:
- EA has been consolidating roughly between $89.50 and $99.70.
- Price is now attacking the resistance area.
- A break above $100 after the two and a half consolidation should open up the next key resistance in the $109-$110 area.
- Being able to make it to $110 is going to be a bullish sign, reflecting respect to the price bottom of early 2019.
- Furthermore, if price can start to anchor above $100 (treat it as support), we will likely see a short-term/medium-term bullish trend (in 2019) that has at least the $130 area in sight.