Advanced Micro Devices (AMD) Rallies After Earnings, But Still Trading Within Consolidation Range
Advanced Micro Devices $AMD is up during the 1/30 session after releasing its Q4 earnings report. It was a mixed report with earnings meeting expectations, but revenue missing expectations. Guidance was rosy, except for Q1 sales.
Here's a summary from CNBC:
The semiconductor company reported earnings in line with expectations, but revenue fell short. AMD reported earnings of 8 cents per share on revenue of $1.42 billion. Wall Street had projected earnings per share of 8 cents on $1.44 billion in revenue, according to Refinitiv consensus estimates.
...
AMD forecasts 2019 sales to grow in the "high single digit percentage" range. Wall Street had forecast 2019 sales of $6.88 billion, which would represent year-over-year revenue growth of 6 percent.
AMD also expects adjusted gross margin to be more than 41 percent for the full year.
For the first quarter, however, AMD said it expects sales of $1.25 billion. Analysts had projected first-quarter sales to be $1.47 billion, according to a Refinitiv consensus estimate.
From: AMD soars 10% after meeting earnings expectations, but revenue misses (CNBC.com)
As the CNBC headline noted, the market was bullish on this earnings report. Indeed, it did gave an upbeat guidance for 2019. The question is, will this bullish reaction carry over outside of AMD's current consolidation range?
AMD Daily Chart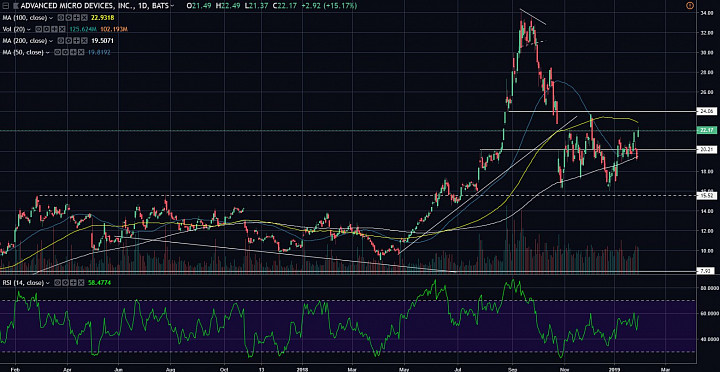 (click to enlarge)
Range Resistance:
- The daily chart shows that price has stabilized after the sharp dip from around $34 in September to just above $16 in late October. We saw this support hold a second time in late December.
- The range resistance is so far around $24. It was a previous support pivot.
- Now price is approaching this resistance again.
- I have my doubts that AMD will push through this resistance. But I am biased, I am looking for another downswing in the general markets, and believe that will suppress any company-specific optimism for AMD.
- Now the downside might be limited as well.
- I have gotten in around $16.50 with dry powder waiting for $14.
- However, I am less confident about the downside to $14.
- In fact, I might even consider buying around $20.50 in anticipation of an eventual bullish breakout - if the market is turning bullish it might retreat from $24, but than respect the $20 area as support. If this happens, I would anticipate a subsequent break above $24.
- My dry powder waiting at $14 will be now be spread between $20 and $16.50.