GBP/USD shows respect to the 1.35 resistance; following a bearish trade
Last week, the GBP/USD rallied after the Bank of England maintained its monetary policy instead of cutting rates as some expected. I noted that we should "respect the resistance around 1.35. 

GBP/USD 4H Chart 7/17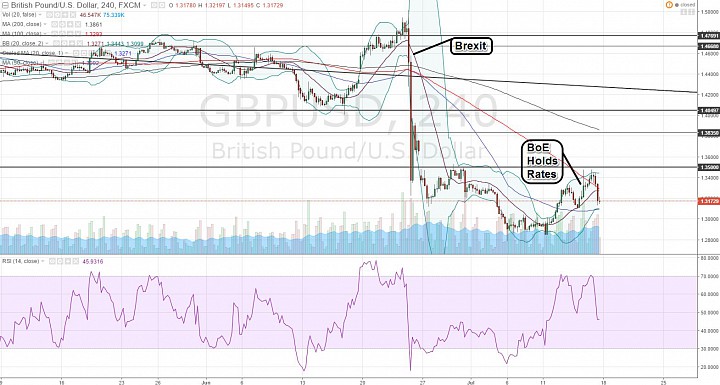 (click to enlarge)
Fading the BoE-reaction: After that BoE-reaction. I put in 3 entry limits between 1.34 and 1.35. They would have averaged 1.3450 if all were hit. But only 2 were hit at 1.34 and 1.3450, making the average entry at 1.3425. 

Targets: The first target for me is 1.3120, and the second is 1.30. 1.3120 is a common support pivot. 1.30 is the resistance area of a previous consolidation, or mini price bottom. You can say that these are conservative targets, which considers the prospect of GBP/USD being in consolidation mode and not bearish continuation mode.

Bearish price action: So far the price action favors the bearish outlook at least in the short-term. The end-of-week bearish candles in the 4H chart dominate the bullish candles and pushed GBP/USD below the level just ahead of the BoE reaction.