Disappointing US jobs report plunges the USD/JPY
Yesterday, the market was surprised by a worse-than-expected US NFP jobs report. Economists expected around 159K jobs added in May, but figures showed only 38K jobs added. Furthermore, the April number was revised down from 160K to 123K. Although the unemployment rate fell, it is no doubt a result of a shrinking participation rate. Finally, wage growth is positive, but any positive headline from wage inflation was drowned by the dismal jobs number.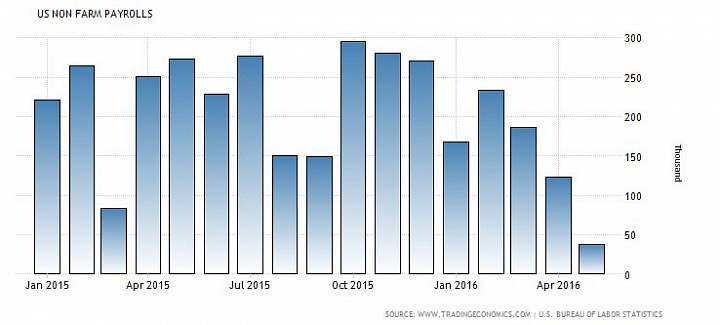 (source: tradingeconomics.com)
The 38K reading is the worst NFP reading since May 2011, when the finalized reading was 25K.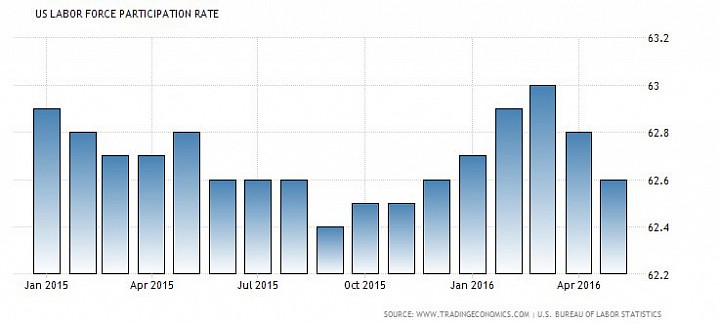 (source: tradingeconomics.com)
Labor force participation rate indeed fell, which explains why the unemployment rate dropped even as few jobs are added to the economy. 62.4 in 2015 was near the historic low (58.10 was the lowest on record), so we are only hovering above that. 
Friday's jobs report essentially puts the June rate hike off the table in my opinion. I think that is what the market is thinking. The recent rally in USD was supported by the prospect of a June rate hike. Now, I think we will debate whether the Fed can do it in September. 
USD/JPY 4H Chart 6/4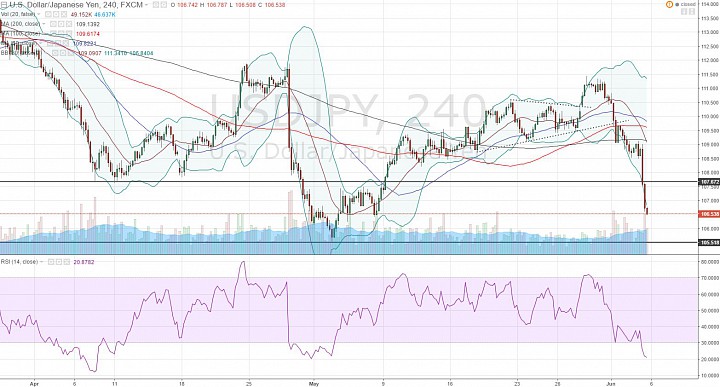 (click to enlarge)
The 4H chart shows price diving off the cliff to end on Friday. The NFP essentially clarified that bears are still in control after a near-term double bottom attempt ahead of the data release. USD/JPY now has the 105.50 low in sight for next week. Below that, there is further downside risk towards the 104 handle, with the 100-101 pivot area not out of the question.