Baidu (BIDU) Retreats Back to Key Range Support
Baidu $BIDU has been consolidating after the late 2017 rally. The daily chart shows a range roughly between $207.40 and $274.50, although price has peeped above to almost $285 briefly in May.
BIDU Daily Chart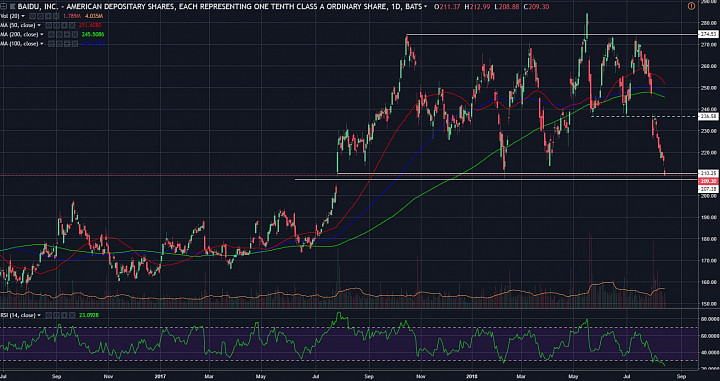 (click to enlarge)
Support:
- As we can see on the daily chart, price has reached the range support area.
- I think there will be some buying here, down to the $200 area as the RSI dips into the oversold area.
- When we look at the weekly chart, price is regressing back to the 200-week simple moving average.
- Also note that the prevailing trend has been bullish.
- We can anticipate support around the 200-week SMA, which is around $200.
- the thing is, the prevailing bullish trend has flattened, so we have to consider the possibility that the subsequent rally will be weak and find resistance in the $235-$240 area.
- Note that previous consolidation periods were long, 2+ years before another bull swing.
- Looking at this cyclical pattern, we shouhld anticipate at least another year of consolidation. Again, this is more reason to anticipate resistance aroudn $235-$240 instead of being confident that price will reach back to $274.
BIDU Weekly Chart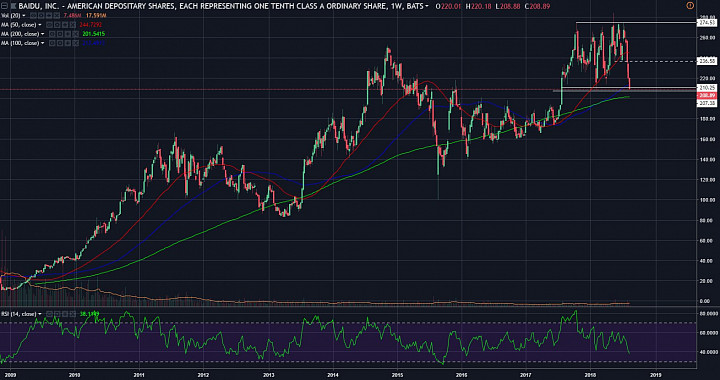 (click to enlarge)