Bitcoin Threatening This Week's Rising Trendline
Bitcoin has been bullish this week, but there is still a strong prevailing downtrend. Still the 1H chart shows some bullish signs.

Bitcoin 1H Chart 11/7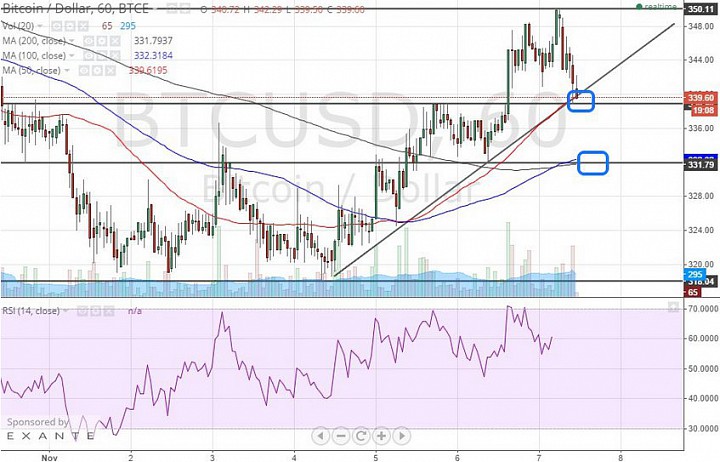 (click to enlarge)
1) Price is above the 200-, 100-, and 50-hour SMAs, which are in bullish slope and alignment.
2) The RSI has tagged 70 and held above 40, showing persistent bullish momentum in the near-term.
3) Most importantly, since the 318 low at the start of the week, price has been making high highs and lows holding above a rising trendline.

Support cluster: As we wind down the week, bitcoin has retreated from 350, and made a lower low of significance for the first time this week. Furthermore, it is probing at a rising trendline, a resistance pivot, and the 50-hour SMA. A break below 338 would clear this support cluster.

Next Key Support: Below 338, there is a key support around 331. We have the 200-, and 100-hour SMA, and a previous support/resistance pivot here. Also, the 1H RSI might be around 40. Now, if price breaks below 330 and the 1H RSI falls below 40, we have a bearish continuation scenario. If price bounces up, but stalls below 340 while the RSI fails to push back above 60, the bearish continuation scenario would still be in play. 

In the bearish continuation scenario, below 330, bitcoin has the 318 low, then the 285 low on the year in sight with risk of further downside.
Bitcoin 4h chart 11/7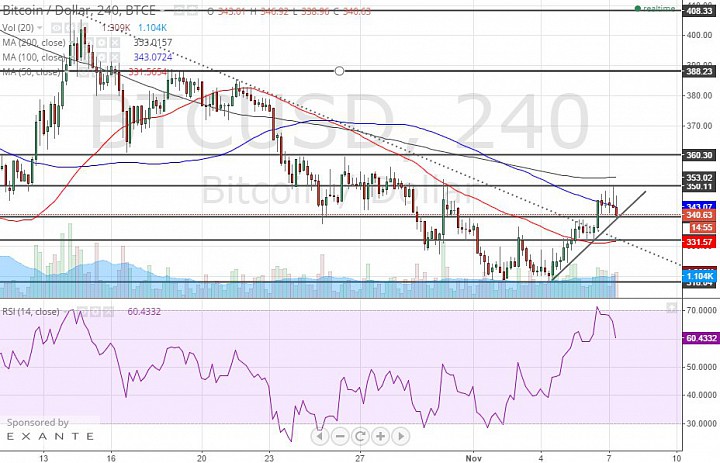 (click to enlarge)

Now, if price does not break below 330, this week's bullish outlook still remains. Note in the 4H chart that this week, price broke above a falling trendline that came down from October's high of 408. 

If price rallies back above 350, the next resistance levels are 
R1: 360 support/resistance pivot
R2: 388 resistance
R3: 408 Oct-high