USD/JPY Remains Sideways, with Near-term Bearish Bias
USD/JPY was unable to hold above a key pivot last week, thus showing lack of bullish bias. In fact, for the near-term, USD/JPY looks bearish. But this bearish bias is within a sideways market.

USD/JPY Daily Chart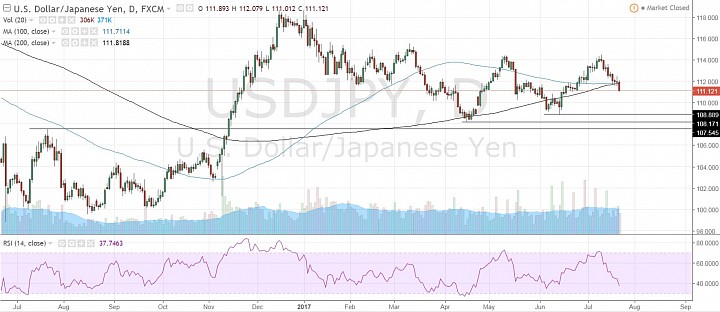 (click to enlarge)

Sideways Market:
- The daily chart shows a USD/JPY that was in bearish correction mode since end of 2016.
- Then this correction shifted into sideways consolidation in April, and USD/JPY has since been in a sideways market.
- The recent bearish swing is within the context of this sideways market.
Anticipating Support:
- For now, there is no sign that the current dip is stopping.
- But if USD/JPY continues to slide, there are 3 key pivots to anticipate support around:
1) 108.80-109 area involves the previous support pivot in June.
2) 108-108.20 area involves the support pivot in April.
3) 107.50-107.60 area involves a previous resistance pivot that might turn into support.