AUD/JPY - 4 Charts that Point Upwards
With the AUDJPY, I believe the charts are worth a thousand words. I don't think I have to add much. Just pay attention to the dyanmics of price action, moving averages, and the RSI.

1) Price action: pay attention to structure, trendlines, highs, and lows. 
2) Moving averages: pay attention to where price is relative to the moving averages.
3) When the RSI moves above 70, it signals bullish momentum. Then if it holds above 40, it show maintenance of the bullish momentum. 
AUD/JPY 4H Chart 5/27 - PENNANT BREAKOUT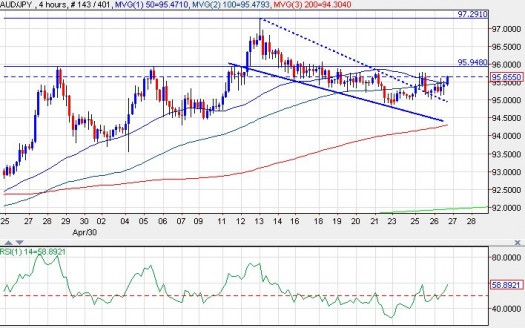 (click to enlarge)
AUD/JPY Daily Chart 5/27 - BULLISH REVERSAL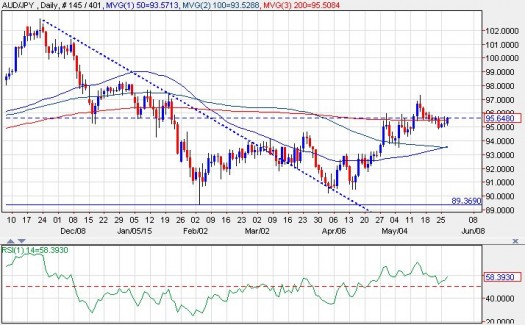 (click to enlarge)
AUD/JPY Weekly Chart 5/27 - BULLISH WITHIN CONSOLIDATION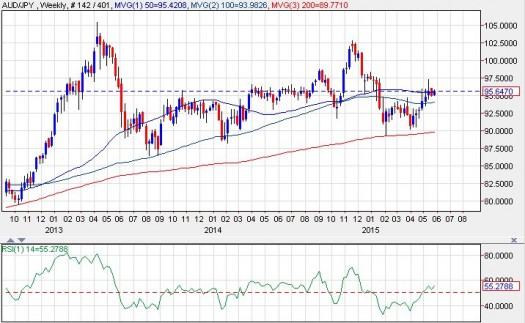 (click to enlarge)
AUD/JPY Monthly Chart 5/27 - BULLISH TRENDLINE SINCE 2009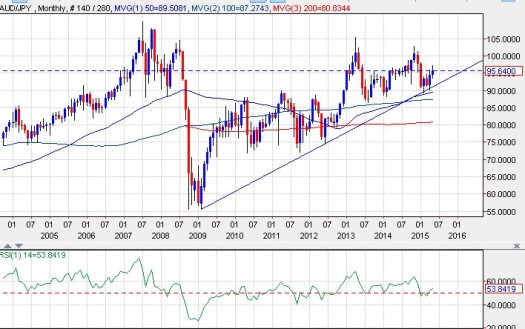 (click to enlarge)
As we can see in the multiple time-frames, AUD/JPY has been in a bullish trend since 2009 and still maintains that mode.
In the short-term and the short-medium-term, there is upside risk first towards the 97.30 high and the psychological level of 100. In the medium and medium-long-term, the highs around 102.50 and then 105 will be in sight.
This bullish outlook can change if the Bank of Japan announces that it will slow down its stimulus measures.