Bioptix (BIOP) - After the Bullish Breakout, Wait for a Pullback
Bioptix $BIOP recently saw a bullish breakout from an almost 3-year range between roughly 1.60 and 5.70.

Biop Weekly Chart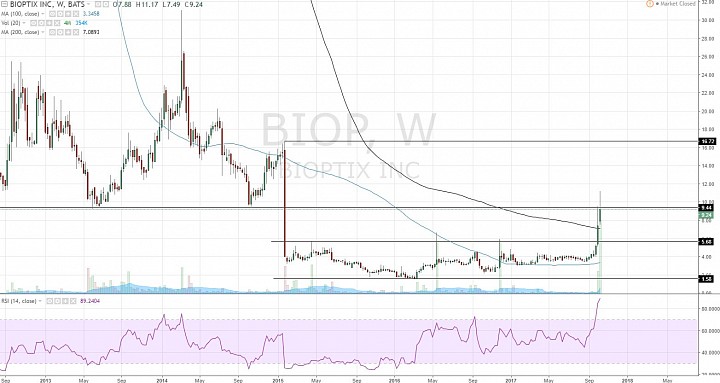 (click to enlarge)
Key Resistance:
- We should note that the breakout has been strong and successful. It did not pullback before pushing up and breaking 10.00 this week.
- However, we can see that this 9.50-10.00 area could be a key resistance that use to be support.
- Perhaps we will see a pullback.
Anticipating Pullback:
- I think don't we can expect the pullback to the ideal 5.00-5.70 area. But we would have to allow such elbow space.
- More likely price will find support at or above 7.00, assuming the market is still bullish.
- Then, we will still have to expect resistance around 10.00.
- Now, if price closes a week above 10.00, we can anticipate upside towards 16.00, which is near the 2015 high before losing 75% in market cap.