SNB Statement - EUR/CHF Reaction
The Swiss National Bank voted to hold its libor rate between 0 and 0.25% as expected. It was also expected to address the recent run up in CHF-strength. 
In the SNB's press release, it noted deteriorating economic conditions domestically and internationally. The inflation forecast has been downgraded as you can see in the graph below.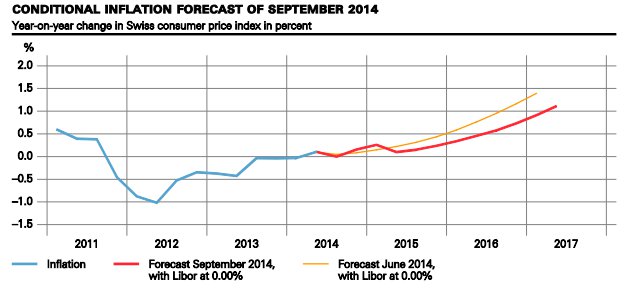 (source: SNB press release)

The bank also noted that the "swiss franc is still high". SNB President, Thomas Jordan also assured that "We'll enforce the cap with utmost determination," and that "we're preared to take further steps immediately if necessary". 

Sounds like the bank is trying to sound as strong as possible to let the market take care of things and fade the CHF. However, as we can see in the EUR/CHF chart, traders still bought the CHF, despite warning that the SNB will be selling CHF if EUR/CHF approaches 1.20.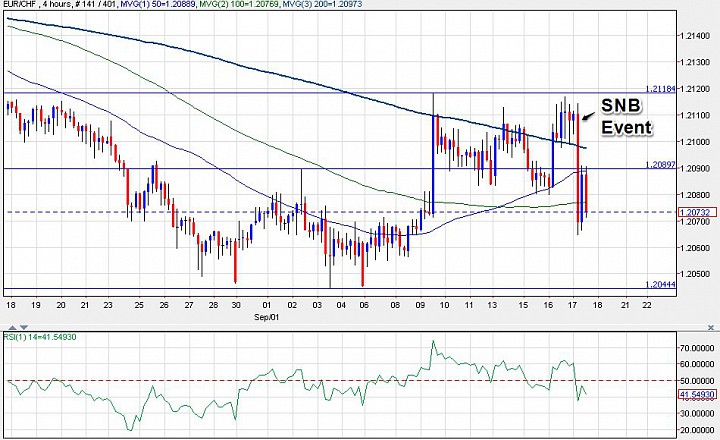 (EUR/CHF 4H Chart 9/18)

At the moment, price is still above 1.20, but the price action in September maintains a bearish outlook. At first we had a double bottom. However, the subsequent bullish attempt stalled at 1.2118, and the SNB reaction is dragging it back toward the September lows around 1.2044. Below, we have the 1.20 floor. 

We should probably consider buying around these levels with a stop below 1.20, but we should know that it might take several months before getting even a 200-pip move because the volatility in EUR/CHF has been mostly under 100 pips a month.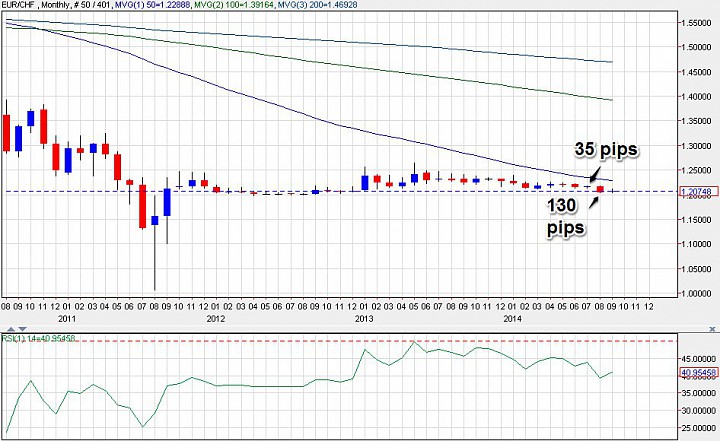 (EUR/CHF Monthly Chart 9/18)