Cisco (CSCO) Looks Strong after Q4 Earnings
Here is a summary of Cisco's $CSCO latest Q4 earnings report from Seeking Alpha:
Fiscal Q2 earnings at the high end of the guidance.
The positive results contrast with mixed earnings from competitors.
Cisco seems immune to recent political events.
The PE ratio ex-cash below 15 reflects a modest valuation considering the strong growth is expected to continue.
From Cisco Earnings Contrast With The Competition (seekingalpha.com)
The market reacted very positive to the news and price shot up to tag the 2018 high around $49.50. It looks ready to continue into a new bullish trend after a period of consolidation in 2018.
CSCO Daily Chart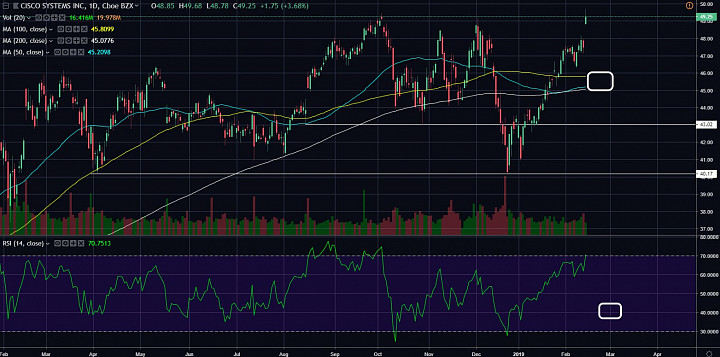 (click to enlarge)
Waiting for a Pullback:
- I had a position with cost basis of $40, and trimmed 1/2 of it around $47.
- The plan was to wait for a pullback towards $43-$44.
- I am still going to wait for a pullback, but this time I think I will look at the $45-$46 area for support.
- Meanwhile, I will look for the RSI to be between 40 and 50 before considering adding back on.