Snap INC. (SNAP) at a Selling Point
Snap Inc. (SNAP) has been bearish almost the moment it went public. The daily chart shows the bearish trend during 2017. Price did find support around 12 pushed above above a common resistance at 14. This opened up a bullish correction, but it is possible that the overall trend is still bearish.

SNAP Daily Chart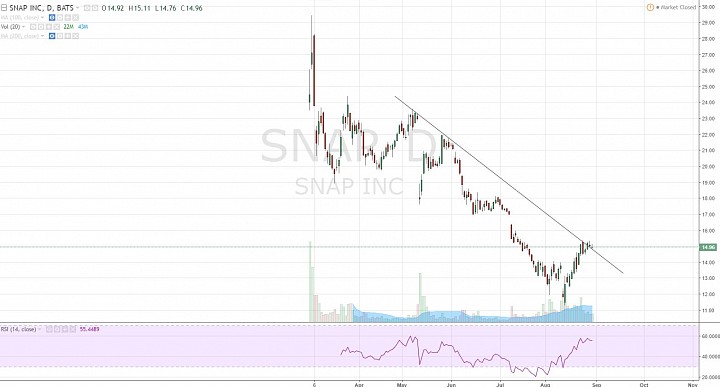 (click to enlarge)
Reasons to Sell:
1) Prevailing trend is bearish and there is no sign this has ended, although the break above 14.00 was a bullish sign. This bullish sign is for the short-term, The bearish outlook for the year would still intact despite this short-term bullish scenario.
2) SNAP is testing a falling resistance.
3) The RSI is around 60, and should hold under 60 if the market is indeed bearish.
- Now, let's say price retreats. This would open up the bearish continuation scenario.
- BUT if we start to see price hold above the 13-14 area, then we can start talking above a price botto