Costco (COST) Signals Bearish Continuation
My long-term outlook on Costco $COST is still bullish because its price structure is still long-term bullish. However, in the short to medium-term, price action suggests Costco is still in a bearish correction phase, and therefore still has more downside.
COST Daily Chart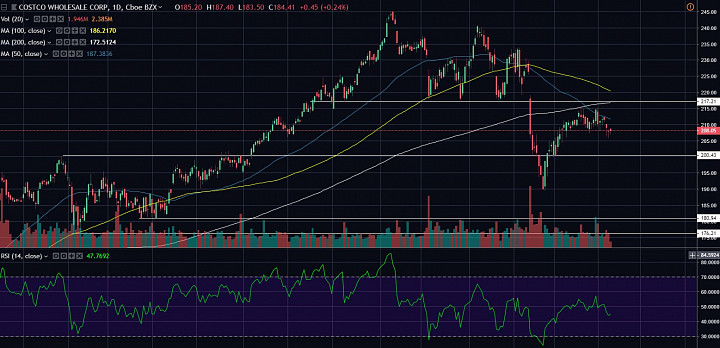 (click to enlarge)
Key Resistance Respected:
- The daily chart shows us a market that recovered since late December after price tagged $190 per share.
- However, as price approached the $217 level, it stalled. This was a previous support. More descriptively, this was the neckline of a price top that broke down. Respecting it as resistance would be a bearish sign.
- Furthermore, this area is reinforced by the 200-day simple moving average (SMA). The crossover below the 200-day SMA followed by the respect of it as resistance is know as a bearish slingshot - a bearish signal.
- Finally, note that since mid-January, price has flattened and established a mini support around $207.70. It seems like price has been testing this level, and is finally cracking it to start this week.
Sharp Pullback:
- The weekly chart shows us a market that has been steadily and persistently bullish. It accelerated in the last swing from mid-2017 to mid-2018.
- We are essentially seeing a sharp pullback from that rally.
- If price can fall back to $190 per share, I think it will continue to retreat towards $180 per share.
- I will be getting ready to buy around $180 with a stop below $170 and targets of $200, $220, and $240.
COST Weekly Chart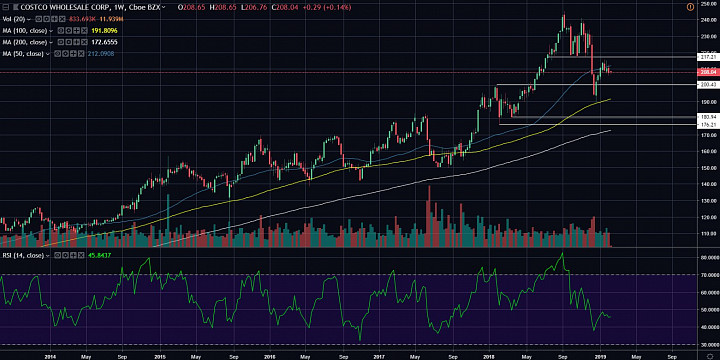 (click to enlarge)