WTI Crude Oil - A Descending Triangle in the Making
Oil Prices have been stalling, and WTI Crude is starting to be anchored below $50/barrel. 
USDWTI 4H Chart 6/30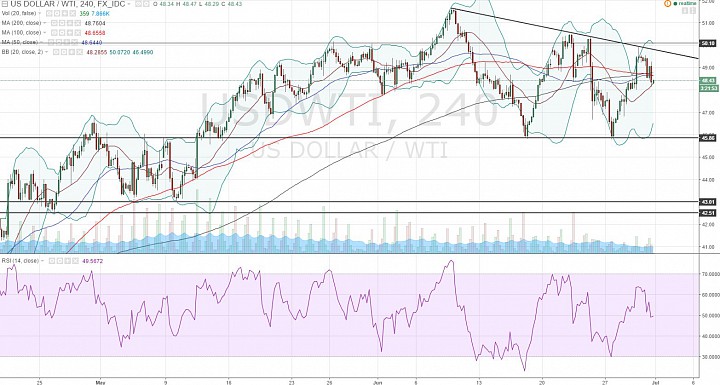 (click to enlarge)
Confirmation of Consolidation: The correlation between oil and risk broke today. While the stock market rallied sharply for a 3rd session recovering most of the post-Brexit losses, WTI Crude retreated from yesterday's high of 50. The inability to push above 50.00 confirms that oil is in consolidation, but we already knew that. 
Descending Triangle: Within the context of consolidation, we are seeing more clues on the structure of price action - a descending triangle with lower highs (latest one at 50.00), and a flat support around 45.85. Look for the market to push towards 45.85 again. 
Breakout scenario: If price pushes below 45.85, we should anticipate further bearish correction towards 42.50-43.00 area.
However, if we see price fail to make it to 46, and break above 50.00 , we should shelf the bearish correction scenario, and look for price to retest that 51.50 area, with risk of pushing higher.

Bearish Bias: As of now, I see a slight bearish bias because the bearish 4H candles have been bigger than the bullish ones. Plus, the very fact that the market is making lower highs while holding a steady low describes a slight bearish bias.