NEO/BTC - Wait for a Pullback From Wedge Resistance
NEO has been rallying against Bitcoin in the pats week but is going to see a resistance soon. Based on the daily chart, patient traders might wait for a pullback towards the 0.00325 BTC level before going long.

NEO/BTC Daily Chart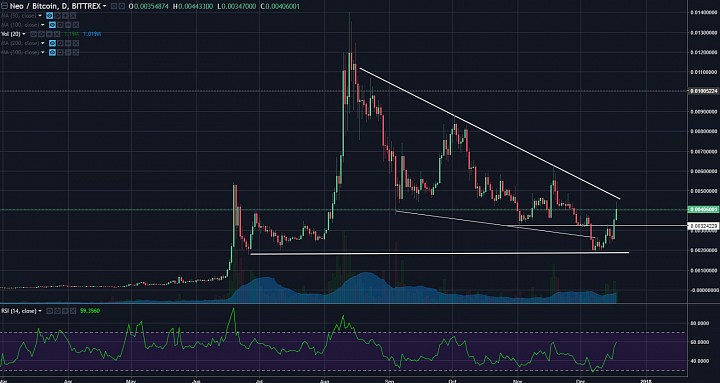 (click to enlarge)
Period of Retracement:
- NEO/BTC had a huge rally in June and then again in August.
- Since then, it has been sliding choppily in a descending wedge.
- Recently, we saw price dip faster, but rebound after hitting the 0.002 BTC level.
- The price level has doubled since then.
- But we do see price reaching the falling trendline.
- Those trying to ride this NEO rally now might get some short-term pullback.
- Maybe the pullback will pin NEO/BTC against the support/resistance pivot around 0.00325 BTC, where I think there will be buyers.