Snap Inc. $SNAP Opens up The $20-$21 Target for 2019
Since confirming a bullish breakout in May, Snap Inc. $SNAP has been showing us strong bullish signs, and we had a target of $17 since early June.
Snap Inc. (SNAP) Confirms Bullish Trend with Strong Reaction at $14
Snap Inc. (SNAP) Extends Bullish Breakout and is Cracking Resistance at $14 After an Analyst Upgrade
Bullish price action has indeed materialized and is now pushing for upside beyond our $17 target.
SNAP Weekly Chart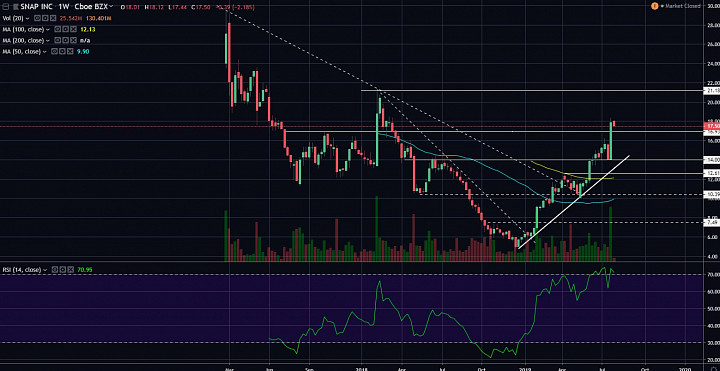 (click to enlarge)
$14 support:
- Indeed, the support at $14 (a previous resistance), was a key signal of bullish control.
- Price reached and broke above the $17 resistance pivot.
- Now, there is upside to the $20-$21 area, around the 2018-high.
- Eventually, the $17 level should become support in the bullish scenario.
- Let's say price retreats from $21. If price then bounces off of $17, I would suspect the next challenge of $21 to be a breakout.
- For now, let's simply raise our bullish expectation a bit from the $17 target, which has already been hit, to the 2018-high around $21.