Albemarle Corporation (ALB) - Reward to Risk Assessment of a Trade at $74.50
Albemarle Corporation $ALB is consolidating after a sharp decline that started in November 2018.

ALB Daily Chart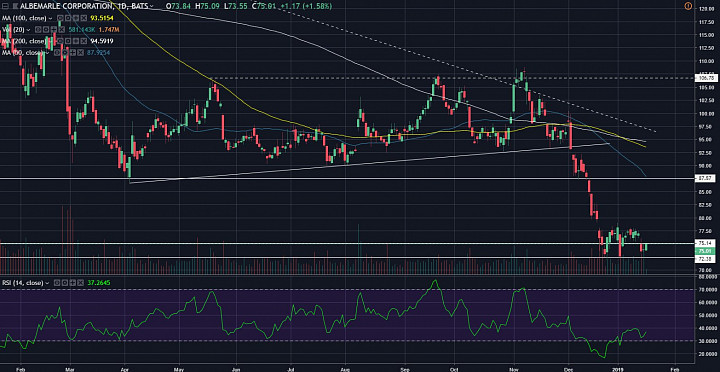 (click to enlarge)
Consolidation:
- Price fell from around $108.75 a sharedown to $72.45 before finding support.
- This support area is actually a critical support/resistance pivot area (refer to weekly chart below).
- Price has been consolidating between roughly $72.45 and $79.
- A break above $79 would open up the $88 area, another support/resistance pivot.
- Now, let's say instead of waiting for a breakout, we respect the current support before it is such a critical one.
Reward to Risk:
- Let's say we set up a buy at $74.50.
- A target should be below $72. Let's say $71.30.
- The target could be $87.
- This trade has a reward to risk profile of 3.9:1.
- I think this scenario is actually lower than 50% probability because of the overall market risk that is still looming.
- Let's say the probability is 33.3% or 1/3.
- A 3.9:1 reward to risk trade that succeeds only 1/3 of the time, would still edge out a profit after execution slippage and fees.
- This is a trade I will be making.
- BUT I will be using 1/2 my usual position size because I want to save dry powder for another leg in the market contraction that started in October 2018.
ALB Weekly Chart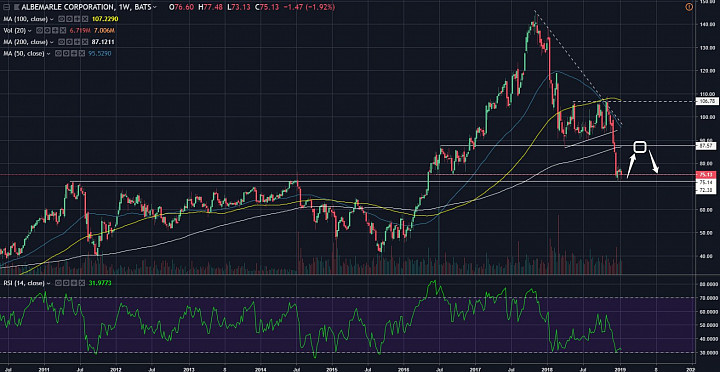 (click to enlarge)